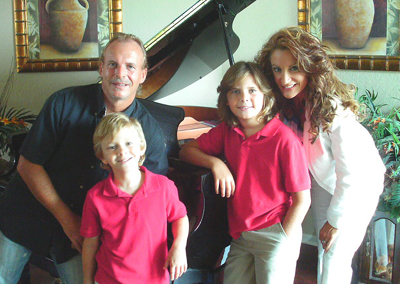 Wellington residents Kimberly Joy and Thomas Ward have announced the release of their newly published book Creating Holiday Magic and Family Traditions: Creative and Unique Ideas to Make Unforgettable Family Memories on Any Budget.
"In good times and bad, family traditions celebrate togetherness and give our children a sense of excitement and anticipation," Kimberly Joy said. "They instill a sense of stability and predictability in such an unpredictable and unstable world. Traditions are an important part of the glue that holds the family unit together."
"Family values and a sense of tradition have really deteriorated over the years," Thomas said. "We diminish the wonder and awe of our children when we simply hand them a gift or celebrate a holiday in the most basic way possible. If you invest a little bit of time and a little bit of ingenuity when planning something special for one or more of your loved ones, the payoff is absolutely priceless! And you don't have to spend a lot to make the magic happen. This book shows you just how to do that."
The Wards are hoping that readers will make time to start developing some family traditions of their own. The book outlines fun, exciting, distinctive things that can be done to make every celebration and holiday unforgettable. The authors are confident that readers will find that creating magic and making others feel special will be personally rewarding as well. Some of the ideas take a bit of planning, but the ideas are completely laid out with examples and don't require much effort or money at all. Best of all, family traditions are all about having fun.
Creating Holiday Magic and Family Traditions is a handbook that outlines creative and fun ways to make every holiday and occasion not only special, but completely tailor-made to please every member of the family. Anyone can sign a card, wrap a gift, and cut a birthday cake for their loved one. This book tosses out convention and shows you how to easily create unique experiences and traditions for your family.
Details of out-of-the-box ideas to host celebrations that both adults and children will enjoy and talk about for years to come are tucked away inside this one-of-a-kind book. Each page features simple, unique, imaginative and budget-conscious activities to do for each occasion.
The pages also detail variations of the ideas, so you can customize them to suit your own, unique family. Also included are ways to bring more enjoyment to your family's everyday lives and activities to promote healthy family bonding.
Want to make your Santa wish list fly to the North Pole right before your children's eyes, or produce a VIP concert event for mom on Mother's Day? Maybe the Easter Bunny will mastermind a spectacular egg and basket hunt adventure this year for your kids.
Kimberly Joy graduated Adelphi University in New York with a bachelor's degree in communications and marketing. She spent the early part of her career in the music business and in radio broadcasting. Kimberly Joy has served actively in her church and coached youth cheerleading. Tom is a Navy veteran, youth baseball coach, a balloon artist and magician.
In 1999, Kimberly Joy and Tom started careers as residential real estate brokers and have built a top-producing real estate sales team in South Florida. They have been married for 12 years and enjoy spending quality family time with their two boys, Anthony and Austin.
To place orders for Creating Holiday Magic and Family Traditions, visit www.holidaymagicbook.com. The title is available at Amazon.com, and the authors have announced the release of the Kindle version of the book, also available now at Amazon.com.
Above: Thomas and Kimberly Joy Ward with their sons Anthony and Austin.