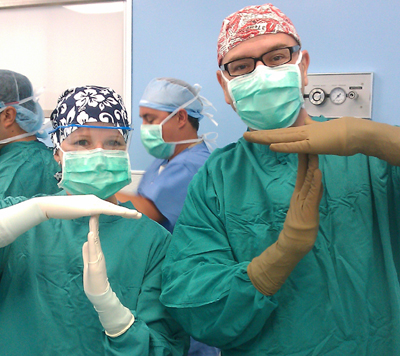 Physicians and operating room staff at Palms West Hospital recognized National Time Out Day on Thursday, June 13. National Time Out Day is a powerful tool that supports surgical nurses' ability to speak up for safe practices in the operating room.
"All of our physicians and staff take their role in patient safety very seriously," Chief Nursing Officer Silvia Stradi said, "not only in our surgical areas, but in all of our procedural areas as well. We are pleased to celebrate National Time Out Day, reinforcing the importance of taking the time to verify the right patient and the right procedure at the right time."
Initiated as an annual awareness campaign by the Association of Perioperative Registered Nurses (AORN) in 2004, it has been consistently supported by the Joint Commission, the World Health Organization, and the Council on Surgical and Perioperative Safety (CSPS) for its ability to increase awareness of safe practices that lead to optimal outcomes for patients undergoing surgery and other invasive procedures.
This year, AORN urges members to evaluate how their time out fits into broader efforts to provide high-quality care to every patient, every time. A poorly executed time out or lack of team communication may indicate areas for improvement within a safety culture.
Palms West Hospital's focus on safety and quality was recently reinforced when the hospital received an "A" rating as their Hospital Safety Score, the first ever national letter grade system ranking medical facilities on their ability to avoid infections, medication mix-ups and other preventable mishaps. The Hospital Safety Score, designed to arm patients with an objective tool to assess performance, was developed by a panel of experts from Harvard and Johns Hopkins universities and the Leapfrog Group, a nonprofit hospital safety advocacy organization.
For a full list of South Florida Hospital Safety Scores, visit www.hospitalsafetyscore.org.
Above: Melinda Jay and Dr. James Goad.