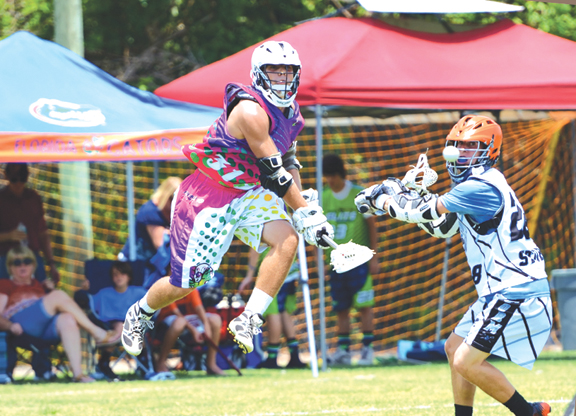 BY GENE NARDI
Florida Atlantic University's new stadium hosted its first professional sporting event Saturday, June 30. The Major League Lacrosse (MLL) All-Star game chose South Florida as the venue for this year's contest. The game featured the Old School squad against the Young Guns and provided everything the fans could desire and more. The game boasted nearly 5,000 in attendance. Old School edged the Young Guns 18-17.
The event served as a test for the possibility of creating an MLL expansion team. Officials believe that South Florida has the potential to support a team in the league, projecting the area into the professional lacrosse spotlight.
Lacrosse has gained popularity in the region, with travel teams forming throughout the state. Local professional player and Old School all-star player Casey Powell formed Team 22 two years ago, basing the team in Boca Raton. Powell also coordinated and hosted an MLL jamboree-style tournament the weekend of the all-start game to prove that lacrosse is thriving in the region. Teams came from Orlando to Miami to compete in a three-game round-robin, and attend the all-star game Saturday night. Local fans echoed Powell's name throughout the game.
The western communities are no stranger to the game. Many local lacrosse competitors attended to show their support for the game. Another Old School all-star, South Floridian Chazz Woodson, participated in the contest, accounting for back-to-back goals.
Woodson coaches high school lacrosse in the Miami area, and plays for the MLL's Ohio Machine. Woodson just grinned, when asked if South Florida should get the green light for an expansion team.
The western communities are sure to be a contributing factor in the success of South Florida lacrosse. Wellington recently hosted the Palm Beach Blast Lacrosse Tournament and will play host to the inaugural Wellington Lacrosse Classic Dec. 1 and 2 at Village Park.
Above: Midfielder Owen Thompson of Wellington leaps up to take a shot on goal for Florida Elite.