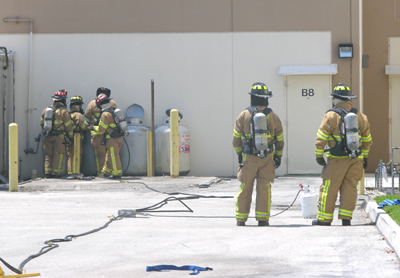 Palm Beach County Fire-Rescue personnel responded to the Wellington Marketplace last Sunday morning regarding a gas leak.
According to a PBCFR report, someone called to report a gas leak from the rear of a commercial structure located at the intersection of Wellington Trace and Greenview Shores Blvd. at 10:40 a.m.
The first arriving units discovered four 200-pound propane tanks behind the building, and it was quickly determined that one of the tanks had developed a leak at its base.
According to the report, the area was isolated, and Special Operations set up a specialized kit to assist with removal.
The gas company that owned the tank was contacted to remove the tank. The event caused several local businesses to be evacuated.
Above: Fire-rescue personnel work to remove the faulty propane tank.