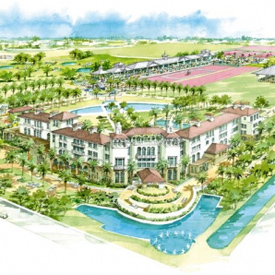 A divided Wellington Village Council on Tuesday revoked the commercial dressage arena designation given earlier this year to the controversial Equestrian Village site by the former council.
In a move that Vice Mayor Howard Coates said will create "uncertainty for the equestrian industry," council members voted 3-2 to revoke the site's "compatibility determination." Coates and Councilwoman Anne Gerwig dissented.
Approved in February, the compatibility determination on the site allowed for year-round operation as a commercial dressage facility. A second item, a master plan that allowed several new access points, was also approved at that time.
Both were subject to conditions that a plat be recorded by March 31, a deadline applicant Wellington Equestrian Partners failed to meet, Director of Growth Management Bob Basehart said. Council members revoked the master plan amendment in May.
Basehart said that without an updated master plan, the compatibility determination could not stand. "[Staff] feels that the appropriate action in this case is to also revoke the approval," he said.
Basehart noted, however, that council members could choose to modify the conditions of approval or extend the time to allow the property owners to get a new master plan approved.
There was extended debate over whether village staff or the property owners were at fault for missing the deadline, which arrived during the confusing days of Wellington's contested election.
Engineer Michael Sexton, representing Wellington Equestrian Partners, said that his client was waiting on a sign-off by Village Attorney Jeff Kurtz before submitting the plat but never received confirmation of that approval.
"I had a conversation with [Kurtz] where I asked him if we were going to be on the agenda for the [March 27 council meeting]," Sexton said. "I was told no. I asked him if the [documents] were approved. My recollection was he said something in the order of, 'I believe they're OK.'"
But Village Engineer Bill Riebe said that he had given Sexton verbal confirmation of Kurtz's approval on March 21.
Wellington Equestrian Partners attorney Dan Rosenbaum said that Sexton had asked for written confirmation of approval several times but did not receive it.
Sexton agreed. "The reason I wanted it in writing, is I do know that items sometimes get walked onto an agenda," he said. "I wanted the item to get walked onto the [March 27] agenda no matter who was sitting [on the council]."
But Gerwig pointed out that there was concern among former council members that any action they took in the wake of the election controversy could have been seen as "sneaking in" an item.
Council members questioned Riebe on why he did not send an e-mail or written note confirming Kurtz's approval.
Riebe said that because of the importance of the project, he and his staff tried to get information passed on to the applicant as quickly as possible, in this case with a verbal confirmation. He said it occurs often with developers.
"In this case, it's just how we corresponded," he said. "From my position, I felt I did what was required of me. I provided that verbal notification and tried diligently to keep the process moving on."
Councilman John Greene asked whether Sexton had requested in writing for a written confirmation from Riebe. Riebe said he had not.
Other debate surrounded whether council members truly had the option to do anything but revoke the approval.
Kurtz said that council members had the option to extend the time for the applicants to submit a new master plan and plat approval, which could allow for the compatibility determination.
But Councilman Matt Willhite said he did not want to approve something that was uncertain. "You're asking me to approve a compatibility, not knowing the basis for the master plan," he said.
Greene said he thought the applicant should resubmit a complete proposal.
Rosenbaum pointed out that the issue could lead to litigation, which would be costly to taxpayers, and suggested tabling the item and going to mediation.
"Everyone is sensitive to this," he said. "It's a difficult time for everyone. I would not advocate someone litigate something unnecessarily. A lot of planning, time and effort goes into putting shows on. I think the smartest thing to do is to stop the bleeding before it gets out of control."
Greene said he felt that Rosenbaum was trying to shift blame from the applicant to staff.
"At no point did your client ever request an extension for time," he said, pointing out that there was no evidence that Sexton requested written confirmation of approval so he could move forward. "I can't make decisions based on what I don't have."
Mayor Bob Margolis agreed, noting that his concern was with the process, not necessarily the project. "The reason we are here tonight is that… there had to be a platting by a certain time," he said.
During the public hearing, residents advocated both sides of the issue.
Bart Novak said he thought that the project would bring traffic and would cost taxpayers to build infrastructure to support it. "Why do we, the taxpayers, have to support them?" he asked.
Jack Mancini said that he relies on the equestrian industry in Wellington to make a living and is worried about its future.
"We support our families here in the community with the equestrian industry," he said. "We put people to work. I feel that we are looking at things that are not in the best interest of the community. Everyone has to come together and work together for this to continue to be the best equestrian community in the world."
Rosenbaum said that business in Wellington is at stake.
"If it becomes so difficult that business can't be done here, and we don't have a partner in the village council, then the applicant will feel that there is no opportunity here in Wellington," he said.
During council comments, Coates said he thought that Wellington officials played a part in causing the missed deadline.
"[Staff] did not advise of approval of the [documents] until a time period when it was impossible to have the item heard on the March 27 agenda," he said. "I disagree that it could have been walked through. Given the political situation, we would have been lynched."
He made a motion not to revoke the compatibility determination subject to a revised plat. Gerwig seconded the motion, but it failed on a 3-2 vote.
Willhite said he could not support the item without an applicable master plan. "I don't think we have any choice but to follow staff's recommendation," he said.
But Coates said that staff's recommendation had been prompted by the council's decision to revoke the master plan, a move that he said he thought was a way for council members to reverse the previous council's decision.
"I have a problem with the last proceedings," he said. "The issues we are supposed to be deciding have been bastardized into a complete referendum on the original sitting council, rather than looking at the sole issue of if there was prejudice in failing to file this plat."
Discussion got heated when Coates suggested that there was a personal vendetta against the applicant being carried out through the council.
Greene took offense to the implication. "You keep telling me that the decisions I'm making are political payback," he said. "I held a position that some people in this community agreed with. Because I'm holding true to what I said I support and don't support, you're telling me it's political payback."
Coates then called into question his objectivity. "If you accept massive campaign contributions from an interested party, I have a hard time believing you can be objective up here," he said.
But Greene pointed out that candidates on both sides were well-financed.
Coates repeatedly asked Greene whether he thought the existing dressage arena should be torn down.
"I don't believe the arena is compatible in the [Equestrian Overlay Zoning District]," Greene replied.
Margolis said that the applicant must follow the rules. "How many more times can we look the other way?" he asked. "I'm not going to move one more line in the sand."
Greene made a motion to revoke the compatibility determination, which carried 3-2, with Coates and Gerwig dissenting.
Coates said he thought that the decision could have broader implications for the industry.
"There is nothing the council has done for this applicant that has made him feel comfortable that he is going to get a fair shake," he said. "We are playing Russian roulette with the equestrian industry. There is nothing more harmful to business than uncertainty, and we have created massive uncertainty for every business owner in Wellington."
Above: An artistic rendering of the Equestrian Village project.