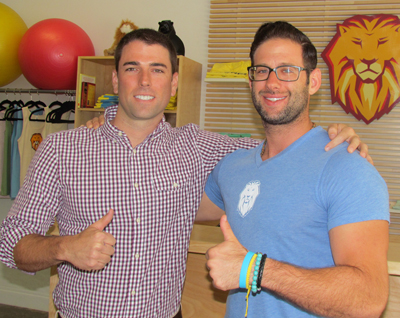 Don't let the lion intimidate you; Wellington's Iron Lion Fitness Studio is a warm and inviting place with a friendly atmosphere. Owners Michael Bates and Seth Kaufmann picked the name and logo, a lion's head, to symbolize inner strength, endurance, balance and sound judgment.
Bates and Kaufmann are longtime Wellington residents who have been friends since they were young students.
Kaufmann holds a master's degree in exercise science from Florida Atlantic University. He went into business first, starting a successful in-home personal training company.
When Kaufmann could not take any more clients because of limited space, he decided to open a studio. That is when he enlisted the help of Bates — an accountant who holds a degree in finance from the University of Central Florida — to run the administrative side.
They also expanded on the business plan, and added RealRyder fitness bikes and yoga classes. "Everything just steamrolled from there," Kaufmann said.
Iron Lion Fitness Studio opened in April and has been making a difference in the community even before it officially opened its doors, having hosted several charity fundraisers. One of its most successful fundraisers to date was the Ryde-A-Thon to benefit the Palm Beach School for Autism. "We raised $5,000 for the school's new facility," Bates said. "They are naming a school room after the studio."
The studio offers a variety of health and wellness options, which include indoor cycling, personal training, weight management and yoga.
The RealRyder fitness bikes (not to be confused with traditional spinning bikes) are one of Iron Lion's most popular services. Unlike the spinning bikes, which are stationary, RealRyder bikes glide and move as the rider moves.
The classes are lively and upbeat. "Our philosophy is to play fun music, and let's make it a party," Kaufmann said. "We even have an '80s cycling class, which people love because it plays all the hits."
All instructors are certified professionals. "They all love teaching so much," Kaufmann said. "They all want to share their passion with others."
Iron Lion Fitness Studio has an intimate and personal feel, Kaufmann noted. "Everyone who comes in knows each other, and it's really like a family atmosphere in here," he said.
When clients first walk into the studio, they enter a large open space with a comfortable seating area, a place for children to play and areas for personal training. In the back of the studio, through glass doors with the lion head logo on it, 20 RealRyder bikes are lined on one side of the room, across from the instructor's bike. The room is also used for the yoga classes.
Registration for classes is available online. "You can reserve your bike up to a year in advance," Kaufmann said.
People can also view all the classes available online on the Iron Lion Fitness Studio web site, www.ironlionfit.com.
"On Saturday mornings we started doing a 30-minute cycling and 30-minute yoga class," Kaufmann said. "This class is popular because it combines a little bit of cycling and yoga."
There are various payment options, from pay-as-you-go or a monthly unlimited flat-rate option.
Iron Lion Fitness Studio is located at 10660 W. Forest Hill Blvd., Suite 160, Wellington, in the same shopping plaza as Fresh Market in front of the Mall at Wellington Green. For more information, call (561) 204-LION.
Above: Iron Lion Fitness Studio owners Michael Bates and Seth Kaufmann.