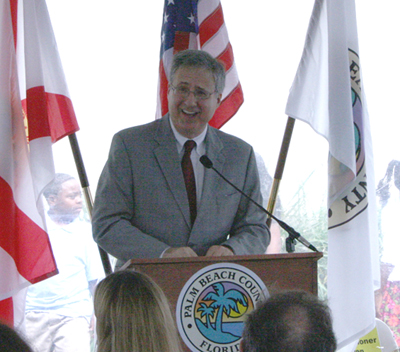 Palm Beach County celebrated the grand opening and dedication of the county's new homeless resource center on June 25.
The Senator Philip D. Lewis Center, located at 1000 45th Street in West Palm Beach, is the area's first regional full-service homeless resource facility.
The center is named for Senator Philip D. Lewis, an original and current member of the Homeless Advisory Board appointed by the Board of County Commissioners. Lewis has worked in collaboration with other community partners, bringing attention to the issues of homelessness and hunger, and implementing meaningful solutions through the Ten-Year Plan to End Homelessness in Palm Beach County.
The center will serve as the single point of access to connect homeless individuals and families to assessments, services, referrals and housing. The county commission hosted the event along with the Division of Human Services, the Homeless Coalition of Palm Beach County, HUD and the City of West Palm Beach.
Above: Palm Beach County Commission Vice Chair Steven Abrams presides over the dedication ceremony.