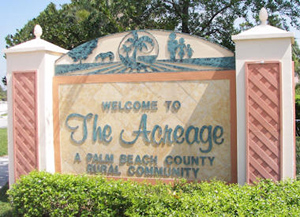 The Indian Trail Improvement District announced this week that an application for a $200,000 grant for phase one of the Acreage Community Park expansion has been approved by the Florida Land & Water Conservation Fund and will be sent to the National Park Service for final approval.
Once the park service has approved the application, an award letter and grant agreement will be forwarded to ITID, according to District Administrator Tanya Quickel.
The application was signed July 2 by Florida Land & Water Conservation Deputy Secretary Al Dougherty, and the agency will submit the applications this fall.
ITID President Michelle Damone said the grant would help the $3.9 million it has available for the project to go farther. Plans call for a community center, several athletics fields, basketball and tennis courts, a splash park, playgrounds, pavilions, picnic areas, and walking and riding trails.
"If we completed the park in its entirety, it would cost approximately $10 million to complete," Damone said. "The board has prioritized Acreage Community Park in the first phase, with, if we can extend our funding, the splash park being the next step, so receiving the $200,000 grant actually stretches our dollars and expands our potential to go in for other amenities."
ITID Vice President Carol Jacobs said she was happy to receive the boost.
"I think that it was good work that Tanya went out and searched for grants," Jacobs said. "It was about time someone started doing some work on that."
Supervisor Jennifer Hager was also pleased. "I'm looking forward to more grants," Hager said, pointing out that a $500,000 application is also being prepared. "One step at a time."