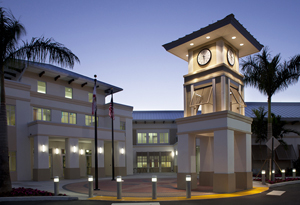 After years of requests from Wellington seniors to have an official voice in village matters, on Tuesday the Wellington Village Council unanimously approved the creation of a Senior Advisory Committee.
At the same time, council members directed staff members to give all committees and boards a larger capacity in Wellington affairs.
The idea of a standing committee has been on the minds of senior activists in the village since 2005, when the short-lived Senior Citizens Task Force was created to evaluate the needs of Wellington's aging population.
Though an advisory committee was high on the list of task force recommendations, it never gained traction among village leaders. But late Tuesday night, seniors finally got their wish.
Senior activist Tony Fransetta applauded council members. "Your logic is not flawed," he said. "I agree with what you're doing."
According to the staff report, the Senior Advisory Committee will have seven members, five appointed by the council and two at-large members.
Inaugural members include some of Wellington's most prominent, longtime senior activists.
Councilwoman Anne Gerwig appointed former Senior Advocate Howard Trager, Vice Mayor Howard Coates appointed Sam Nebb, Councilman John Greene appointed Barbara Phillippi, Councilman Matt Willhite appointed Fransetta and Mayor Bob Margolis appointed Sharon Zimmerman.
The mutually appointed at-large members are Peter Granata and David Schumacher.
Committee members will act in an advisory capacity and discuss matters involving senior citizens in Wellington, including developing and recommending policies, programs and legislation.
It will also "provide a forum in which village residents 55 and older [can] state views and concerns," according to the staff report.
Margolis took the opportunity to address the function of committees and boards in Wellington, noting that many meet only at the council's direction.
Village Attorney Jeffrey Kurtz said that could be changed.
"My understanding is that your desire is to have them generate some ideas and items without specifically being directed by the council," he said, adding that members could alter the resolution to reflect that ability.
Kurtz said that committee and board members could submit ideas that could then be put on their agenda if council members agree.
But Gerwig said she thought committee members should be able to set their agenda with a majority vote. Willhite agreed.
"The chair of that committee, along with our staff liaison, can set the agenda based on the majority of the council wanting to see something on a future agenda," Willhite said. "Then if someone has a good idea and wants to put it on a future agenda, there has to be consensus. Then they can work with staff to provide direction."
Coates asked whether they could address those issues in the resolution. "This applies to only one committee," he said.
Kurtz said that the council could direct him to draft language that would apply to all committees. Until then, he noted that it could remove language in the resolution stating that the council must direct them to meet.
Gerwig wanted to be sure that advisory members could still come to the village council, and Kurtz said that they would. "They maintain that ability," he said. "And if the council directs them to look at an issue, they would do that."
After some confusion, Willhite explained that new measures would be drafted to address all boards and committees. "This resolution is creating the senior advisory board, and we are directing the attorney to draft one that will address all advisory boards," he said.
Village Manager Paul Schofield asked Willhite to specify that Kurtz draft both resolutions and ordinances to do so, noting that some advisory boards are created by ordinance and others by resolution.
Willhite made the motion, which carried unanimously.
In other business, the Village Park gym is set to get a $2.42 million facelift after the council approved a contract Tuesday with West Construction.
According to the staff report, renovations will include roof repairs, sealing the existing stucco and concrete walls, replacing existing windows and doors, repairing water damage, installing a roof drain system and more.
Council members pulled the item from the consent agenda, concerned that there was about a $1 million difference between the two bidders. West Construction bid $2,243,646 while a second company, Brang Construction, bid $3,281,520.
Schofield said that Village Engineer Bill Riebe's cost estimate was "dead smack in the middle of both bids." Riebe estimated $1.12 million for required repairs and $1.61 million for recommended repairs, for a total $2.73 million.
Originally, the budget for the project was $1.04 million, meaning the council would have to approve the additional money, which would come from reserve funds.
Coates made a motion to approve the contract, which passed unanimously.