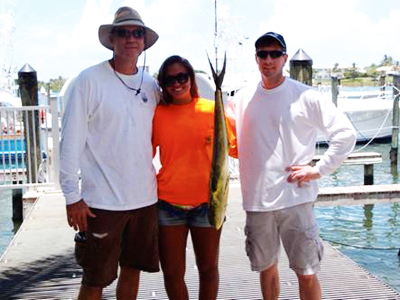 The Jupiter Light Lodge #340 held its sixth annual fishing tournament to benefit Quantum House on Saturday, July 14.
Funds raised from the tournament will assist the local hospital hospitality house where "hope has a home" for families while their children are receiving treatments for serious medical conditions in Palm Beach County.
The winning dolphin, weighing 9.03 lbs., went to the team of Bill Hawkins, Amanda Routt (angler) and Travis Routt (captain). The winning snapper and largest fish, weighing 10.91 lbs., went to Dennis Wollard (angler) and Paul Johnson (captain). There were no kingfish or wahoo caught in the tournament.
Event sponsors included Tow Max Tires, Sumitomo Tires, CSI Palm Beach, Carpenter Electric, Square Grouper Tiki Bar, Grand Slam Sportfishing Supply, Sysco Foods Inc., Indian River Fruit, Fishing Headquarters, Juno Beach Bait and Tackle, Seatow, Intermarine and West Marine.
Established more than 50 years ago, the Jupiter Light Lodge has served countless organizations in the community. "We are thrilled to have the support of the enthusiastic membership of Jupiter Light Lodge," Quantum House Executive Director Robi Jurney said. "The organization has made a lasting impact for charities like Quantum House in the community."
For more information about Jupiter Light Lodge #340, call the lodge at (561) 746-2302 or visit its web site at www.jupiterlightlodge.com.
Above: Bill Hawkins, Amanda Routt and Travis Routt display the winning dolphin.