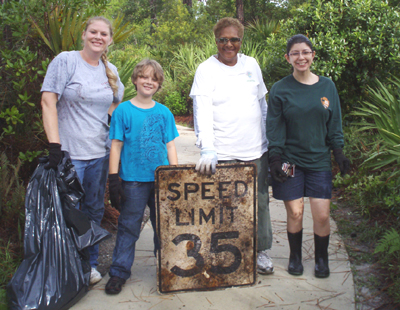 Volunteers with the Palm Beach County Department of Environmental Resources Management (ERM) were very busy during the months of April, May and June. They donated 1,157 labor hours to enhance Palm Beach County's environment.
More than 350 ERM volunteers worked on 24 habitat restoration projects in county-owned natural areas and habitat restoration areas. They removed 16,762 pounds of trash and invasive exotic vegetation from wooded areas, scrublands and wetlands. The trash varied from car radios and traffic signs to doll heads to a mattress and a deer decoy.
Volunteers also planted 3,162 native trees, shrubs and flowers, installed 200 feet of silt fencing, renovated 300 feet of hiking trails and constructed an observation platform.
ERM's volunteer program is a valuable tool that offers land managers a large supply of energetic workers who fight the heat, insects and difficult terrain to help protect the county's natural treasures. For more information on joining ERM's volunteer program, visit www.pbcgov.com/erm.
Above: Lisa Archer and her son, Olga Ferrer, and Veronica Kogan at the Delaware Scrub Natural Area.