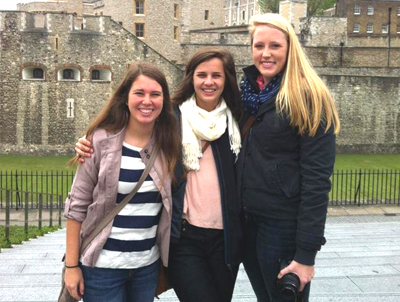 The King's Academy's senior class of 2012 recently enjoyed an amazing 10-day educational adventure through England and France. The trip was a wonderful culmination of their educational experiences at TKA, filling them with wonderful impressions and memories.
This class of seniors followed the tradition of 40 prior classes, traveling to foreign countries to experience history, culture and attractions.
The group of 110 TKA students began their journey in London, England where some of the highlights included visiting Big Ben, Buckingham Palace, the Tower of London, Westminster Abbey and Warwick Castle. They also enjoyed an expansive view of London from the London Eye and cruising on the River Thames. London's famed West End provided superb entertainment with musicals such as Wicked, Les Miserables and Phantom of the Opera. Students were then whisked away on board the Eurostar train, traveling through the Chunnel, an undersea rail tunnel connecting England and France.
In Paris, the group visited the Louvre, the Basilica de Sacre Coeur, Notre Dame and the grandeur of the Latin Quarter. They enjoyed seeing the city of lights by night on a river cruise on the Seine and also marveled at the Eiffel Tower light show.
The highlight of the trip was a day spent at Normandy where they visited Omaha Beach and the American cemetery. In a moving ceremony, TKA Valedictorian Maddie Collins and Salutatorian Ryan Larson placed a wreath at the foot of a memorial, and TKA President Jeff Loveland delivered a heartfelt address in memory of those who made the ultimate sacrifice. As members of TKA honor choir His People sang "Give Me Jesus," many other visitors gathered to listen and joined hands with the group as TKA Chaplain Gary Butler led them all in an inspiring prayer.
The trip gave students a more tangible foundation for their faith while exposing them to the wonders of the world around them. Certainly, this 10-day expedition has created memories that will last a lifetime.
Above: Mandy Lopez, Shelby Johns and Robin Seitz at the Tower of London.