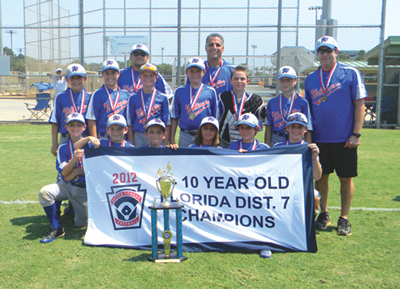 Wellington Recreation Little League recently made some history. With its showing in the Palm Beach County Little League Tournament, otherwise known as the 2012 Spring District Invitational, Wellington baseball cemented its place as one of the county's best programs by winning championships in three age divisions.
The Wellington all-star teams in Coach-Pitch (7-8), 9-Year-Old All-Stars and 10-Year-Old All-Stars went a combined 27-2 en route to their championships.
The 10-Year-Old All-Stars got the balling rolling by going 9-0 in their tournament and defeating Boca Raton 9-6 in the final on Monday, June 11. The 9-Year-Old All-Stars (9-1) took home a championship two nights later by defeating East Boynton 7-1. The 8-Year-Old All-Stars went 9-1 in their tournament and defeated West Boynton 4-3 in the final on Friday, June 15.
Since Wellington began Little League International in the fall 2008, Wellington had secured one all-star championship in 2010 and one strong team tournament in 2011. In this season's district invitational, the league won three all-star championships, a clean sweep of all of the all-star divisions offered in this particular tournament.
On June 30, the 9-10 Combined All-Star Team took Wellington's first-ever Little League District 7 International Tournament and will now advance to the Little League Florida Sectional Tournament in Port St. Lucie on Saturday, July 14.
Above: The 9-10 Combined All-Star Team.