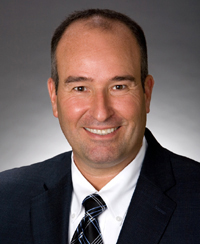 The Health Care District of Palm Beach County has announced that Thomas Leach has joined Lakeside Medical Center in Belle Glade as the hospital's administrator.
Lakeside Medical Center, which is owned and operated by the Health Care District, is Palm Beach County's only public hospital, treating over 38,000 patients a year in the rural area of western Palm Beach County known as the Glades. In March, Leach retired from the U.S. Navy after a 23-year career. Over the past 14 years, Leach served as a medical service corps officer/healthcare administrator for multi-specialty medical practices and roles onboard the USS Ronald Reagan aircraft carrier and the Naval Medical Clinic in Pearl Harbor, Hawaii.
"Leach's experience and multi-faceted healthcare career in the U.S. Navy is a great asset to Lakeside Medical Center," said Benjamin Frank, Esq., chair of the Health Care District Board of Commissioners. "His strong hospital leadership, combined with his commitment to community, make him uniquely qualified to take the hospital into the future."
"We appreciate Leach's experience in delivering medical services to diverse patient populations and payer mixes," said Dr. Ronald J. Wiewora, the Health Care District's chief executive officer and chief medical officer. "That experience is extremely important when leading a safety net hospital like Lakeside Medical Center."
Leach most recently served as officer in charge of the Naval Branch Health Clinic at Naval Air Station Whiting Field in Milton, Fla. There he oversaw the delivery of primary medical and dental services to active-duty military, as well as to families and retirees living in Santa Rosa County. Prior to that, Leach led the Naval Branch Health Clinic at the Naval Air Technical Training Center, which provides care to more than 25,000 active duty personnel in Pensacola. Leach's experience also includes several leadership roles within Naval Hospital Pensacola, a 60-bed family medicine teaching hospital.
"My military background helped instill in me a sense of purpose to serve the greater good," Leach said. "I feel very fortunate to join Lakeside Medical Center, a community hospital that has a staff so dedicated to delivering quality care to its patients."
Leach received his bachelor's degree in healthcare management at Southern Illinois University in Carbondale, Ill. He earned his master's degree in education at Old Dominion University in Norfolk, Va., and his master's degree in administration at Central Michigan University in Mt. Pleasant, Mich.
"We welcome Leach to Lakeside Medical Center, Palm Beach County's newest hospital. We look forward to his operational expertise in the areas of patient care, quality and safety, as well as fiscal responsibility," said Juan Cocuy, chair of the Glades Rural Area Support Board, which governs the hospital.
For more information, visit Lakeside Medical Center's web site at www.lakesidemedical.org.