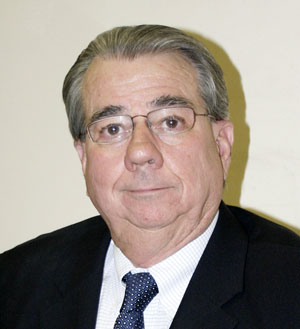 Computer analyst and Delray Beach Mayor Nelson "Woodie" McDuffie is challenging incumbent Palm Beach County Supervisor of Elections Susan Bucher in the Aug. 14 primary election.
A third candidate, Lantana resident Caneste Succe, is also on the ballot. If one candidate gets more than 50 percent of the vote, he or she will win outright. If not, the top two candidates advance to the November general election. Write-in candidate Maxo Marc has also filed to run.
McDuffie, 66, is a Palm Beach County native who grew up in Delray Beach. He has a degree in management science from Florida Atlantic University that he received in 1970.
"I worked for approximately 21 years with Burroughs Corporation," he said. "Since that time, I have been the information technology director for the Palm Beach County Property Appraiser. I've been doing your tax roll for 18 years."
Besides his work as mayor of Delray Beach, McDuffie said that running the Florida division for Unisys was one of his top accomplishments. The firm was the 36th-largest corporation in the United States at the time, installing numerous mainframe computers.
McDuffie has served on the Delray Beach City Commission since 2007, most recently as mayor.
He said that during his term as mayor of Delray Beach, the city has bought numerous recreational fields for youth sports and rebuilt Miller Park, which he said now stands as a community showplace. "I dramatically improved the quality and availability of fields and facilities for youth sports, which was the reason I got on the commission to begin with," McDuffie said.
At the property appraiser's office, McDuffie said he has had 18 years of defect-free tax rolls. "That's my mission, to put out a tax roll," he said.
When he first took over computer systems at the office, it was mainframe-oriented, which he updated. He pointed out that when he started, there were 450,000 parcels of property in Palm Beach County and that there are now 628,000 — and the size of the office has not grown.
"If you do the numbers on that, it's a productivity increase of 40 percent," McDuffie said.
McDuffie believes that he is the best candidate because he can offer the two things the elections office must provide: professional management and accurate, timely automated services.
"There's no one else in the race who has professional management training," he said. "I'm a graduate of management science. Not only that, I've been in management 38 years, managing 10 to 800 people."
At the property appraiser's office, McDuffie said he could sit back and let his team run the operation, but he works hard to stay up to date technically. "I still have gone to all the programming schools so I can keep myself apprised of how they write the code and what they do so I'm on top of it and can discuss it intelligently," he said.
McDuffie's top goal if elected is to produce timely and accurate election results the first time and every time for every seat in every race. He also intends to be held accountable.
"If anything bothers me more than the errors in that office, it has been the responsibility-shifting to everyone but the people who work there," he said. "I am the elected official, and the buck stops here."
As mayor of Delray Beach, McDuffie said he has never blamed anyone else for the problems he walked into there. "I have never looked a reporter in the face and said, 'Well, that was my police chief's fault' or 'that was the city manager's fault,'" he said.
He would also put more emphasis on training. The errors that happened in the recent Wellington election were the result of the totals being out of sequence, which tells him that testing and training in the supervisor's office are lacking. "I happen to know that no one has been trained since 2008, and the elected official has never been trained," McDuffie asserted.
If elected, McDuffie said he would test the system in every way possible to reduce errors and fix them if they occur in order to be able to rely on it to produce accurate results.
"When we got it to the point that we could no longer break it, then we would say, 'OK, we're good. We can rely upon it, and we won't have things happen like what happened here in Wellington,'" he said.
McDuffie does not intend to get caught in the errors that plagued the last three supervisors, beginning with Theresa LePore, who he said was caught in a "perfect storm" of errors in the 2000 presidential election. "It was an absolute circus," he said. "She got caught in a bad situation."
Some contracts in Delray Beach, including the solid waste contract with Waste Management, have come under scrutiny by the Office of the Inspector General for not getting competitive bids. McDuffie explained that some of the large contracts come up for automatic renewal. "My vote would be to bid it out, not because the inspector general says so, but just because we've had the same contract for a long time," he said.
Bucher has criticized McDuffie and Delray Beach for sending out a set of incorrect utility bills due to a computer error, but McDuffie said that was for one cycle as a result of the installation of new software, and the errors were corrected in the next cycle.
Asked whether the county should move to an appointed elections supervisor, McDuffie said he would not favor that. "I typically don't like to take elected offices and turn them into appointed offices, because I kind of like voters to have the option," he said. "But I can tell you from my experience, sometimes it's more political than it is issues. I happen to think if this race were just issues, I could go home and sit down right now and get elected, but it's not.
McDuffie favors elected constitutional officers in general because of the level of independence from the county commission.
He said voters should vote for him because he has been a dedicated public servant since 1991 in the property appraiser's office.
"I never found fame or fortune. I just dug in there and did my job," he said. "I took over the City of Delray Beach when economics fell over the precipice. Ride through Delray Beach, and you will see no evidence of that whatsoever. We still maintain all our services and the level of services… I'm proud of what we do. I've worked hard to be a leader. I'm a leader by example.
For more information, visit www.woodiemcduffie.com.