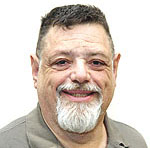 'I' ON CULTURE
The new Dallas demonstrates not only that everything old is new again but how modern drama has changed into a runaway train kind of process. The old show from the '80s was filled with melodrama. It was a struggle between good guys and bad guys, but the stories took a lot of time to develop and people watched the program avidly. The discussion over "Who shot J.R.?" took up an entire summer, with viewers forgetting that he, like all the other characters, was fictional.
Now the TNT Network has revived the old franchise. J.R. (Larry Hagman) and Bobby (Patrick Duffy) are back, symbolizing evil and good. But the plot now runs on steroids. In a half-dozen episodes so far, the battle of the Ewings has gone through more plot than was generally seen in a season or two in the old days.
Since the two original characters have both more or less aged out of handling the chores of starring in a show, their sons have supplanted them as the main characters, but the struggle between good and evil continues. Christopher (Jesse Metcalfe) is Bobby's adopted son, a nephew of his dead wife, Pam. You know he's a good guy because instead of loving oil, he's into renewable fuels. Even more to the point, since he represents Bobby, he's more or less a fool. He faces off against J.R.'s son, John Ross (Josh Henderson), who seems almost as unprincipled as his dad. We know he's really bad since he'd even drill under South Fork, the Ewing ranch.
The series began with Christopher breaking up with Elena Ramos (Jordana Brewster), the family cook's daughter, on their wedding day because of a misunderstanding. She's a gifted geologist who, after the breakup, works for John Ross and begins a romance with him. Christopher then marries Rebecca (Julie Gonzalo), who we eventually learn engineered the misunderstanding to break up Christopher's marriage so she could get her hands on some of the Ewing fortune. Christopher (who still carries a torch for Elena) is convinced that John Ross was involved in the breakup, although his cousin seems not to have been directly involved.
Added to all of this, J.R.'s ex-wife Sue Ellen (Linda Gray) is a successful politician whose actions helped cause strain in the relationship between J.R. and John Ross as the boy grew up and who might play a role in some of the decisions. And Bobby's new wife Ann (Brenda Strong) has a powerful ex who begins to get involved. And Rebecca's brother Tommy (Callard Harris) gets in the middle of things. We also get to see some of the old regulars doing a few turns along the way.
And that's just the first half-dozen episodes of the show. So far, the overall plot is the struggle for control of South Fork. Things will undoubtedly get a lot more bitter, more convoluted and more dirty before we're finished.
The cast is fine; they do what is expected, and the old vets play the old parts well. Larry Hagman still seems to have a blast manipulating people, even if it's mostly for his own entertainment. I'm glad Sue Ellen is now far stronger; actually, all the women are. Back in the old version, only the bad girls did anything proactive. Now, they all do their own fighting.
My only complaint is that in this soap, just like most of the others, the good guys all are incredibly stupid. Christopher, for example, gives up on the girl he loves far too easily and screws up so badly that it seems nothing can overcome it, while his cousin John Ross certainly has his number. Somehow, I have the feeling that a very important rule for the writers is to make any decent person as close to an idiot as possible, but in a way that persuades audiences to actually like them.
And why are all of these shows seemingly about the rich? I'm certain there are plenty of poor people who back-stab and cheat regularly. Of course, in many of those cases, the results wind up on the news.
Is Dallas worth watching? Well, it is enjoyable, and moves quickly. It provides a lascivious glance at the world of the rich and infamous. It is not great television, but on a hot summer night when the choice is Marlins games or idiotic reality or game shows, it serves quite well.