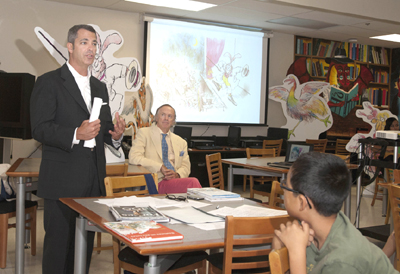 Océ, a Canon Group Company and an international leader in digital document management, recently announced that more than 40 middle and high school students in Palm Beach County completed the 2012 Océ Future Authors Project writing workshop, making them eligible to become published authors.
A collection of their works, which they named Pens and Paper: Our Weapons of Mass Construction, will be presented at a formal book-signing event this fall.
Two of the students, Meher Kalkat and Michael Wang, both eighth-graders at the Bak Middle School of the Arts in West Palm Beach, also will have one piece each published in the online publication, East magazine.
"At the workshop, we had the chance to write creatively in a way we can't at school," Kalkat said. "I enjoyed it because the teachers nitpicked our work and edited everything so well that it really helped me improve my writing. I would recommend this program to anyone who likes to write and wants to learn more skills."
Wang agreed, saying that he especially liked being around other writers. "The workshop was a place where I could learn how others write and to experience professional editing," he said. "I've never had a real editor before. This was a great way to improve my writing."
For 10th-grader Julian Stark, this was a perfect way to spend the summer, especially for someone who would like to pursue a career as a writer. "I thought I was a good writer and went into this a little cocky," said the Boca Raton High School student. "Then, my work came back with writing all over it. I learned a lot and especially enjoyed the creative energy in the room. I got a lot of ideas from the other students."
Four professional authors gave presentations to the students during the workshop, sharing their personal experiences and offering writing and publishing tips. The authors were Robert Forbes, children's book author and president of ForbesLife magazine; Mary Monroe, a high school teacher and young adult book author; Nicole Barker, young adult author of Dancing With Ana; and Richard Rosser, the publisher of East magazine.
Francis McMahon, vice president of marketing at Production Printing Systems, a division of Océ North America, said this year's students displayed incredible skill.
"When I sat with the students during one of their workshop days, I was amazed by their passion and commitment to the craft of writing," McMahon said. "Their work is creative and thoughtful. I look forward to watching these students grow in their talents and love of writing in future years. We continued to be impressed by the students who choose to spend their summer vacations as Océ Future Authors. Our hope is that this experience will result in a group of young adults with lifelong commitments to writing, reading and learning."
In its seventh year, the Océ Future Authors Project accepted applications this year from nearly 100 students who wanted to spend part of their summer vacations learning how to become published authors. The program begins with an intense eight-day writing workshop.
Students gain insight into the process of writing, editing and digitally publishing books through interactions with Océ executives, published authors and licensed language arts teachers. Writings from each student are then compiled, professionally published and digitally printed in final book form by the Boca Raton-based Océ North America Production Printing Systems division. The finished book is then unveiled at a book signing hosted by the City of Boca Raton at the Spanish River Public Library. Since the program's inception in 2006, nearly 300 students have participated in the Océ Future Authors Project writing workshops.
The program is a partnership between the School District of Palm Beach County and Océ North America, and is made possible with generous grants from the Lawrence Sanders Foundation; Maroone, an AutoNation Company; and Xplor International, a not-for-profit educational and networking association serving users and suppliers of document technologies.
For more information on how to support the program, contact Mary Kay Murray, executive director of the Education Foundation of Palm Beach County, at murraymk@palmbeach.k12.fl.us.
For more information about the Océ Future Authors Project, visit www.oceusa.com/futureauthors.
Above: Francis McMahon, vice president of marketing at Production Printing Systems at Océ North America, speaks to students in the Future Author class.