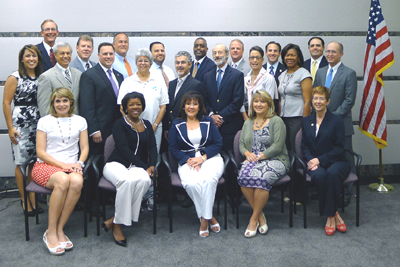 Leadership Palm Beach County has announced its 2012-13 Executive Committee and Board of Governors.
The are as follows: Board President Monte Resnick, executive director, J.P. Morgan Securities; First Vice President David Greene, partner, Fox Rothschild LLP; Second Vice President Tammy Clarke, director at Alpern Rosenthal; Treasurer Kim Jones, district manager, ADP/Total Source; Immediate Past President Tom Jensen, vice president, ARCADIS; and Legal Counsel Rob Vargas, attorney, Jones, Foster, Johnston & Stubbs P.A.
The 2012-13 board members are as follows: Sarah Alsofrom of the Hanley Center Foundation; Sally Chester, a community volunteer; Vicki Chouris of the South Florida Fair and Palm Beach County Expositions; Chris Cortez, attorney with Jones, Foster, Johnston & Stubbs P.A.; Linda Culbertson of the Clerk & Comptroller of Palm Beach County; Pedro del Sol; Gregory Demetriades of the Community Partnership Group; Gary Fechter of Romano's Macaroni Grill; Silvia Garcia of Insurance for You; Terry Gearing of Florida Atlantic University; Eric Hopkins of Hundley Farms; Lisa Johnson of the Girl Scouts of Southeast Florida; Randy Levitt of Morgan Stanley Smith Barney; Maria Marino of the Marino Realty Group; Dorritt Miller, deputy city administrator of the City of West Palm Beach; Shuly Oletzky of Frigibar Industries; Ike Powell; Christine Radentz of Wells Fargo; Oren Tasini of Haile, Shaw & Pfaffenberger P.A.; and Gary Walk of Casy Ciklin Lubitz Matens & O'Connell.
Board alternates are William Lynch of Corradino Water & Environment LLC and Mark Montgomery of Celedinas Insurance.
For more information, visit www.leadershippbc.org.
Above: The 2012-13 Leadership Palm Beach County board members.