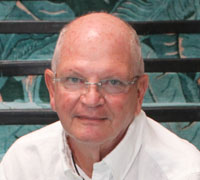 JOE NASUTI IS THE PHANTOM
The Lake Worth Playhouse is previewing its 60th season with its production of Hairspray, a musical that soars with fabulous music and choreography sure to leave you swinging like the '60s! This Tony Award–winning, critically acclaimed Broadway musical is loads of fun with its 1960s-style dance music, rhythm and blues, eccentric characters, and most important, style.
Hairspray sweeps you away to 1960s Baltimore, where the '50s are out, and change is in the air! Loveable plus-size heroine Tracy has a passion for dancing and wins a spot on the local TV dance program. Overnight she finds herself transformed from an outsider to teen celebrity. Can a larger-than-average adolescent somehow manage to vanquish the program's reigning princess, integrate the television show, and find true love all without mussing her hair?
With more than 30 actors in this production, Hairspray features many South Florida theater and Lake Worth Playhouse favorites, including Ashley Rodriguez (Mimi in Rent) as Amber, John Costanzo (Mushnick in Little Shop of Horrors) as Edna, Nikki Bradley (Mama Morton in Chicago) as Motormouth and Dominic Servidio (Dentist in Little Shop of Horrors and Rooster in Annie) as Link, among many other frequent playhouse faces. Also featured is Fednike Nazistene (Dynamite). Fednike began acting as a child in the playhouse's outreach program for underserved youth in the Lake Worth community. Through this outreach initiative, Fednike developed a love for theater and the arts and is now returning to the stage as a seasoned and talented performer.
The show will be directed by Clayton Phillips, director of the sensational shows Chicago and The Music Man, and the production manager at the Maltz Jupiter Theatre.
Variety magazine wrote "… this sweet, infinitely spirited, bubblegum-flavored confection… it more than lives up to its promise." The New York Daily News promises it "wins your heart." And according to The New York Times, "Hairspray succeeds in recreating the pleasures of the old-fashioned musical comedy without seeming old-fashioned."
Hairspray has won Tony Awards for Best Musical, Best Book of a Musical, Best Direction of a Musical and Best Original Score, and Drama Desk Awards for Best Musical, Outstanding Lyrics, Outstanding Music and Outstanding Director.
The original production of Hairspray opened Aug. 15, 2002 at the Neil Simon Theatre. The production originally was directed by Jack O'Brian, with choreography by Jerry Mitchell. The production went on to win eight Tony Awards (of its 12 nominations). The production ran on Broadway for 2,642 shows, or the equivalent of six years. It opened Oct. 11, 2007 in London's West End at the Shaftesbury Theatre, where it later won 11 Oliver Awards.
The original leads of Tracy and Edna were played by Marissa Jaret Winokur and Harvey Fierstein, respectively; both went on to win Tony Awards for their performances. Also, Matthew Morrison, the popular Glee star, originated the role of Link Larkin in the original production.
In 2007, Hairspray, the musical, was made into a movie, with famous actors, such as John Travolta as Edna, Queen Latifah as Motormouth and Michelle Pfeiffer as Velma Von Tussle.
The Lake Worth Playhouse is a nonprofit community theater with a diverse array of offerings, including award-winning dramas, comedies, musicals, area premieres, Broadway favorites, children's shows, ballets and operas on film, live concerts, improv comedy and alternative programming. In addition to its main stage theatrical fare, the playhouse presents year-round independent and foreign films in the Stonzek Theatre, an intimate black-box-style theater equipped with a large viewing screen and high-definition projection. The playhouse offers a variety of educational programs for adults and children, as well as community outreach initiatives that bring cultural programs into the neighborhoods of underserved youth and also make theater available free of charge for disadvantaged citizens in the community.
Matinee and evening performances will run through July 29 at 2 and 8 p.m. Tickets cost $30 and $26, respectively. Tickets can be purchased through the Lake Worth Playhouse box office at (561) 586-6410 or online at www.lakeworthplayhouse.org.