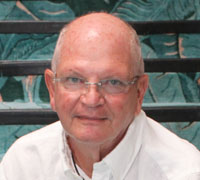 A cast and creative team made up of local high school students are spending their summer at the Maltz Jupiter Theatre producing a powerful classic American drama.
Under the guidance of industry professionals at Florida's largest award-winning professional regional theatre, students are taking part in a free summer mentorship program to produce Arthur Miller's critically acclaimed 1953 play The Crucible. The show will take place on the theater's stage on Saturday, Aug. 16.
Winner of the Tony Award for Best Play, the story follows the Salem witch trials, that took place in Massachusetts Bay during 1692 and 1693, in which dark magic, jealousy and superstition took hold of the community. As witchcraft hysteria reaches a fever pitch, choices have to be made: conform to survive or uphold your beliefs whatever the consequence.
Known as the Youth Artists' Chair, the project aligns high school students with individual theater staff members for one-on-one mentoring and guidance during the creation process of the show. Through the project, students have produced the dramas Hamlet, The Laramie Project and The Good Times are Killing Me since 2011.
"The Youth Artists' Chair is a unique mentorship opportunity for area students to immerse themselves into all facets of a production and produce a dynamic, thrilling adaptation of one of Arthur Miller's most powerful and important plays," said Julie Rowe, the theater's director of education. "The level of training the students receive is truly remarkable, and it's always wonderful to watch them learn and grow."
After passing through an extensive interview and selection process, the student creative team consists of: Kiel Peterson (producer), 17, of Jupiter; Summer Hope (director), 17, of Jupiter; Madeline Gilbert (stage manager), 16, of Palm City; Bethany Hoffman (assistant stage manager), 15, of Jupiter; Tiffany Bucknor (scenic designer), 16, of Jupiter Farms; Ashleigh McDonald (lighting designer), 17, of Jupiter; Kevin Macia (sound designer), 16, of Jupiter; Cami Wright (costume designer), 15, of Loxahatchee; Alison Carey (costume assistant), 13, of Jupiter; Gabriela Abadia (props master), 17, of Palm Beach Gardens; Tara Bucknor (properties assistant), 16, of Jupiter Farms; Justin Savage (marketing director), 17, of Riviera Beach; Jennifer Vasbinder (public relations director), 16, of Jupiter; and Erika Sauer (production associate), 16, of Palm Beach Gardens.
Tickets are on sale now for The Crucible, which will be staged on Saturday, Aug. 16 at 7:30 p.m. Tickets are $20 for adults and $15 for children. For more information about the show, or to purchase tickets, visit www.jupitertheatre.org or call (561) 575-2223.
Joe Nasuti, the Phantom, is a freelance dining, travel and entertainment reviewer for the Town-Crier and YourNews.com.