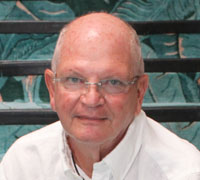 JOE NASUTI IS THE PHANTOM
Looking for delicious and authentic Thai food? Then head to the Thai Room Restaurant for lunch and dinner daily!
The Thai Room Restaurant is a charming and welcome addition to the expanding West Palm Beach dining circuit. Owners Ken and Patty Ekkhot, who were both born in Thailand, are local residents who are fulfilling their dream of having their own restaurant. Ever since they opened their doors on May 23, their popularity has grown with locals and visitors.
Thai food enthusiasts truly enjoy Chef Ken's unique mixture of delicious, authentic Thai dishes, created from his own recipes, along with a swell variety of yummy American-style Thai offerings. If first impressions mean a lot to you, wait until you meet Patty. Her warm and welcoming demeanor is inspiring.
This is a husband-and-wife team grew up in the business. They both worked for Ken's great aunt, Wattana Sumonthee, who has owned Wattana Thai Restaurant in West Palm Beach for more than 20 years. Hospitality runs on both sides of their family, as Patty's aunt also owns Siam Square on U.S. 1 in North Palm Beach. Obviously, they were trained well!
After they found the location for their restaurant, they transformed the space — which formerly housed an Italian spot — by painting the walls bright red. One wall is distinguished by an oversized, pale yellow Po tree, which they also painted. The tree, native to Thailand, is a symbol of good luck and a long life. The other main wall of the restaurant is home to characters from well-known Thai epics. The comfy, black booths are punctuated with brightly colored pillows, which were sewn by Patty's mother using fabric from Thailand. Nicely spaced wooden tables and chairs, as well as comfy benches upholstered in patterned fabric and a Thai statue on the service bar, round out the simple decor. Thai music, which plays overhead, inspires relaxation.
From the first bite, you can sense that they are dedicated to using fresh ingredients in all of their dishes. Each dish is made to order, for each diner, by Chef Ken. Patty's mother, Varaport Paisanvit, creates all of the sauces from scratch daily. Diners can taste the difference in her plum sauce, peanut sauce, ponzu sauce, sweet and sour sauce, and garlic sauce.
There are plenty of menu standouts, including appetizers ($3.25 to $9.95) such as Tom Kha Gai (coconut milk soup with chicken, mushrooms, scallions, lemongrass and kaffir leaves). This soup is truly superb and one of the best soups I have ever had at any restaurant. Another must-try starter is their Winter Shrimp (three shrimp, wrapped with ground chicken and dough, deep-fried and served with plum sauce). Other appetizers worthy of your consideration are curry puffs, crispy calamari with plum sauce, marinated chicken satay, papaya salad (papaya, carrots, tomatoes, peanuts and shrimp, tossed in a dressing of sweet and spicy lime juice) and the Thai Room Salad (shrimp, squid and imitation crab meat, red onions, scallions, tomatoes, and cucumbers, mixed with Thai chili paste).
Among the outstanding entrees ($11.95 to $24.95) from the Chef's Recommendation section of the menu, I selected Lobster Curry (broiled lobster tail, broccoli, mushrooms, bell peppers and squash in a sauce of red curry paste and coconut milk) because I love lobster and I love curry. Wow, did I make the right choice! However, I feel no matter what I would have selected from their vast menu would have been the right choice, including Three Musketeers (sautéed chicken, beef and pork served on a bed of veggies, topped with sizzling Thai garlic sauce), Crispy Duck (deep-fried, battered half-duck, served with steamed broccoli and carrots, and a sweet black been sauce on the side) and Shrimp Fuji (grilled jumbo shrimps, served on a bed of veggies, with a sizzling Thai chili sauce).
Additionally, diners can order a wide array of stir-fried dishes by choosing chicken, beef, pork, tofu, veggies, shrimp, squid or scallops (or a combo) and then choosing one of eight different sauces (including garlic, basil, ginger, sweet and sour, cashew nuts and soy sauce, or oyster sauce) or choosing one of four curry sauces (Panang, red, green or Massaman). There are also 11 enticing noodle dishes, including Pad Thai and Drunken Noodles, and all of these can also be enhanced with chicken, beef, pork, tofu, vegetables, shrimp, squid, scallops or a seafood combo. All dishes come with diners' choice of white or brown rice.
For dessert, sweet treats provide the perfect finale to any meal. I opted for the scrumptious fried bananas — which are offered with or without ice cream, but of course, I went with the ice cream — a perfect pairing well worth the extra calories! There is also fried vanilla ice cream with chocolate syrup, sticky rice topped with vanilla or chocolate ice cream, or rainbow sherbet.
The lunch menu features a wide array of stir-fried dishes from $7.99 to $9.99, served with diners' choice of chicken, beef, pork, seafood, tofu, vegetables and/or noodles, as well as diners' choice of sauces. During lunch, diners may add an order of spring rolls and a glass of soda to any entree for $1.50 per person.
The Thai Room Restaurant is located at 6901 Okeechobee Blvd., Suite D-15, in West Palm Beach, in the Lake Point Centre (anchored by the Wal-Mart Neighborhood Market at the northeast corner of Jog Road). The restaurant is open for lunch, dinner and small bites daily. Hours are 11:30 a.m. to 10 p.m. Monday through Friday, and noon to 10 p.m. Saturday and Sunday. Call the restaurant at (561) 689-1830 or visit www.thairoomwpb.com for reservations, take-out items or additional information. Please tell Ken and Patty that the Phantom Diner highly recommends that you try the wonders of Thailand at the Thai Room Restaurant!
Coming soon: Ken and Patty plan to offer dinner delivery to the surrounding neighborhood.