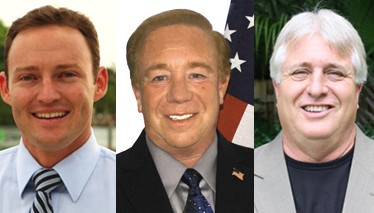 Three candidates — (shown, L-R) accountant/construction leader Patrick Murphy, marketer Jim Horn and retired firefighter Jerry Buechler  — are vying in a Democratic primary Tuesday, Aug. 14 for their party's nomination in Florida's 18th Congressional District.
The victor will face the winner of a Republican primary held the same day — either U.S. Rep. Allen West (R-District 22) or Martin County Sheriff Robert "Bob" Crowder.
The newly drawn District 18 encompasses Martin and St. Lucie counties on the Treasure Coast, as well as the northern third of Palm Beach County, including most of The Acreage and northern areas in Royal Palm Beach. The district leans Republican but is considered one of the few swing districts in the state.
Patrick Murphy — Murphy told the Town-Crier that he followed West from Broward to District 18 to continue his challenge after West abandoned his re-election bid in District 22 for the more Republican-leaning District 18.
A certified public accountant by training, Murphy, 29, grew up in his family's Coastal Construction Group, starting as a day laborer and moving to assistant project engineer and manager.
"I started an environmental cleanup company after the BP oil spill," he said. "There was talk it was going to get caught in that loop current in the gulf and it was going to come down Florida's west coast and up through the Keys and up through the Gulf Stream. I'm from the Keys, and when that happened, no one was even talking about what they were going to do."
Murphy did some research and came across an oil skimmer that was developed during the Exxon Valdez oil spill, and he saw it as an opportunity to get prepared for the disaster.
"I ended up building a small fleet of oil skimmers and moving up to New Orleans with them," he said. "We thought if it ever did make it down to the Keys, we'd put them on trailers and bring them down, and be the first person sort of on standby, ready to go."
Murphy announced his candidacy in March 2011. "I've been working very hard," he said. "I think I work 100 hours or so a week toward the campaign, and I've been very fortunate to get financial support and grassroots support."
His first television ads were up Tuesday and will continue more or less throughout the campaign. "We have a serious operation, and I got in this race well before there was a primary, whether that was Lois Frankel [in District 22] initially or Jerry Buechler or Jim Horn," he said. "They jumped in the race after I made the move to follow Allen West."
Murphy said he has put together a top political team with one goal in mind: "My goal is defeating Allen West, and I'm going to continue working to do everything I have to do to do that."
Murphy said West has raised more money than he has, $2.2 million last quarter, but noted that West has also spent a lot more so far, and the two are in a dead heat in the most recent poll.
He said West raises money by direct mail, capitalizing on inflammatory statements. "He makes comments, for example, about 80 Communists in Congress, and he sent a piece of mail out to hundreds of thousands of people across the country and asked for their financial support," Murphy said.
After defeating West, Murphy said his No. 1 priority is jobs and the economy. "We've got to get people back to work," he said. "That's my number one focus and a big part of why I got into this. I think I have the background to get people back to work, and I understand some of the major issues facing our country. Being a CPA, I've studied the tax code. I understand the loopholes and deductions that far too many people and far too many corporations take advantage of. Unfortunately, the mom-and-pops, the small, the entrepreneur, the startup companies end up bearing the brunt of our tax code, while the largest corporations are paying zero percent in tax, and that's not sustainable."
For more info., visit www.patrickmurphy2012.com.
Jim Horn — Horn ran unsuccessfully against Congressman Tom Rooney in 2010 in what was then District 16. A resident of Palm City, Horn does advertising, marketing, product development and Google pay-per-click advertising. His experience includes magazine advertising and product development.
"I've combined my longtime advertising and marketing and product development skills with Internet skills," he said. "I've developed over 150 products."
Horn said he is running for the same reason he ran against Rooney, because he has four school-age children and has a stake in the district. "This is home for me," he said. "I have extensive business experience running factories. I've built factories, and when I talk about the products I've developed, many of them I built factories to manufacture or assisted in adding to factories for small and large firms."
Horn said his experience includes retooling empty textile factories whose work had gone overseas to manufacture products he helped develop.
"I believe that I can utilize my extensive business experience and knowledge of manufacturing, advertising and marketing to help the Treasure Coast optimize its economy," he said. "I'm also an environmentalist. The places that need some pollution control or mitigation, I'm strong on that. I want this place to be as good as it can be for my children, from the economy, business and jobs, to the environment because I live here. I believe in the original founding fathers' concept of a congressman being a local individual who can bring to central government the thoughts, needs and desires of their district."
He said the district suffers from having congressmen who are not really local. "Their children don't go to school here, they're not long-time residents, so they're not real residents," Horn said, explaining that he has lived for years on a small horse ranch in Palm City with his family.
Horn noted that he is not out to advance his business or political career. "Any deals that Jimmy Horn makes will be to the benefit of the Treasure Coast, not a future political career," he said. "Unfortunately, I don't see that happening here with the current representation or past representation because I don't think anyone really wanted to live here and stay here."
Horn said he feels that the concept of having a local congressman who's interested in the district has been eclipsed by large amounts of money being funneled into political campaigns. "Not enough local people are standing up and doing what's necessary to help their own district, their own family, their own friends, their own school districts, their own economy and know what they need," he said.
Horn said he thinks he has the money to defeat Murphy, but added that beating West might be another story. "I have enough to run a primary, but neither one of us has the funds necessary to run a hard campaign against Allen West," he said. "However, after the primary, there will be millions of dollars available."
For more info., visit www.jimhorn4congress.com.
Jerry Buechler — Buechler said all the Democrats in the primary are focused on defeating West, but they do have some differences on issues.
Buechler said he is concerned about the point democracy has reached. "I think our democracy has basically been overtaken by money," he said, explaining that he had heard recently that the states face a $55 billion combined deficit. "Yet, we have corporations sitting on $2 trillion. If you take $55 billion as the percentage of $2 trillion, that's two to three percent, and we have corporations that pay no taxes and spend more money lobbying than they pay in taxes."
Companies move money around to take advantage of the system, he said. "Even Wal-Mart, which says they pay 27 percent of their income on profit, that's an outright lie because they take all their profit off the table," Buechler said. "In Florida, each store pays millions to the Wal-Mart trust fund, which is in Delaware, either that or each store pays a fee for carrying the Wal-Mart trademark, even though these stores are paid off and they are attracted to where they are with low property tax rates. We've given away the store."
Buechler said he is also concerned about recovering from the housing crash, which has resulted in the eviction of thousands of families from their homes, explaining that as a retired firefighter, he was among many families that left Miami-Dade County to purchase their dream home in Martin County. "A lot of the firemen I was working with were moving up to this area," he said. "It's a very popular area. Most of them have their houses underwater now. If you really look at why, it's due to the huge amount of money that tore down the really important regulations that kept the mortgage market on track."
A major contributor to the crash was the 1999 repeal of parts of the Glass-Steagall Act. "That tore down the walls between local lending banks and your big Wall Street banks and insurance companies," he said. "No longer do banks have to hold the mortgages they wrote and be responsible for their results. They could bundle them up and sell them to Wall Street, which they did very readily."
Buechler said the major contributors to congressional campaigns have been the financial market, which lobbied for deregulation. "We're in this mess due to deregulation," he said.
Buechler, who was once an actuary for Northwestern Mutual Life, said he has always had an interest in numbers. "The common sense has gone out of it, and that's what alarms," he said. "The Federal Reserve steps in by printing money, which actually doesn't make the case any better."
Buechler, who has been paying property taxes in Martin County for seven years and living there three years, said he was commuting to his firefighter-paramedic job in Miami until he retired in April 2011. "At the time, I was also running the Florida Firefighters' Trust Fund, which I did for 16 years, first as trustee, then as chairman, and later on as agent and consultant," he said. "I have an insurance license."
He said that background gives him a good feel for what makes healthcare affordable. "That is another reason I'm running," Buechler said. "I think that is a huge issue because we've gone from in 1980, 9 percent of our GDP spent on healthcare services, and now we're spending 18 percent of our GDP. That is just totally unsustainable."
For more info., visit www.jerrybuechlerforcongress.com.