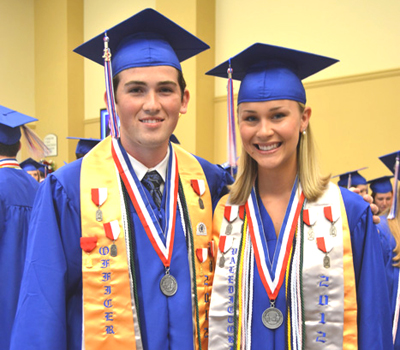 When you ask any faculty or staff member at the King's Academy about the Class of 2012, they all say the same thing: "They are a special class!"
On June 1, the King's Academy held commencement exercises for 121 graduating seniors who excelled during their high school careers.
They successfully met and exceeded the King's Academy's rigorous academic curriculum, including Advanced Placement courses, dual enrollment courses and honors courses, while contributing nearly 40,000 total hours of community service time. They have been recognized nationally for academic achievement, led TKA's championship athletic teams to the state finals, commanded the stage in numerous award-winning musicals, plays and productions, and excelled in choral and band competitions.
TKA High School Principal Sonya Jones was impressed by the seniors' efforts. "This is a class of outstanding leaders and it is gratifying to see their hard work pay off," she said. "One of the things that we stress at King's is producing Christian leaders who will go out and change their world. I'm sure that this class has both the knowledge and the opportunities in higher education to do just that."
As a result of their efforts, the King's Academy's 2012 graduates boast an impressive list of college acceptances from highly selective colleges and universities including: Auburn University, Baylor University, Boston College, Dartmouth College, Emory University, the Georgia Institute of Technology, New York University, Northwestern University, Princeton University, Syracuse University, Tulane University, the University of Florida, the University of Miami, the University of Michigan, the University of North Carolina at Chapel Hill, Wake Forest University and many others.
The King's Academy's 2012 senior class has received more than $7.6 million in scholarships to date, approximately $81,000 per student. Director of College Counseling Heather Najmabadi and her staff meet with each high school student and their families to assist with their college searches including the scholarship application process.
"Our primary goal is to assist and guide our students and their families through the myriad of information and decisions concerning their college search," she said. "We are always looking to provide students with the best possible support. They are indeed a class to be remembered for their academic achievements, their service, their leadership, and their spiritual impact."
The King's Academy is a nationally recognized private Christian school serving approximately 1,200 students from preschool through 12th grade and is accredited by the Southern Association of Colleges and Schools, the Association of Christian Schools International and the Florida Association of Christian Colleges and Schools. The King's Academy serves students and their families across Palm Beach and Hendry counties at its main campus at Belvedere Road and Sansbury's Way in West Palm Beach, its Clewiston campus on Caribbean Avenue and its satellite preschool campuses in Greenacres, Palm Beach Gardens and Royal Palm Beach. For more information, visit www.tka.net.

Above: Salutatorian Ryan Larson and Valedictorian Maddie Collins.