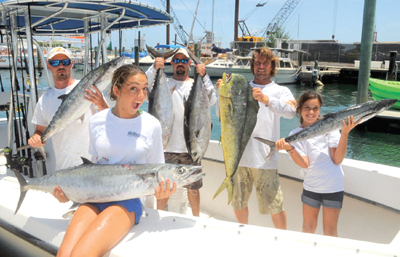 When the largest kingfish, dolphin and wahoo (KDW) tip the scales, triumphant contestants will share cash and prizes totaling more than $25,000 at the 13th annual Horizons Fishing Tournament at Riviera Beach Marina on Saturday, July 21. A grand prize of $5,000 in cash will be awarded for the heaviest KDW landed by any angler. Additional cash prizes will be awarded in the Ladies and Junior divisions. Proceeds of the tournament benefit the Hospice of Palm Beach County Foundation.
The weekend of festivities begins at the Captain's Meeting on Thursday, July 19 from 5 to 7 p.m. at Riviera Beach Marina where fishing enthusiasts, captains and crew can enjoy dinner provided by Park Avenue BBQ Grill, entertainment, drinks, raffle prizes and a silent auction.
The competition begins Saturday, July 21. Lines go in the water at 6:30 a.m. Anglers can cast off from any inlet and weigh in between 1 and 4 p.m. at one of the Wells Fargo weigh-in stations: Riviera Beach Marina or the Square Grouper in Jupiter. Spectators at the Riviera Beach Marina can watch the action at the scales and enjoy food, beverages and music from the 98.7 FM the Gater's remote truck. The awards ceremony dinner follows with dinner sponsored by Asset Specialists, entertainment, drinks, raffle prizes and a silent auction. Successful bidders can win a three-night stay at the Sunrise Resort & Marina in the Bahamas, a one-night stay and golf foursome PGA National Resort & Spa, two tickets (and parking passes) for the 2013 Fort Lauderdale Boat Show, a 2013 SunFest package and a Van Dell dive watch.
"A great weekend of family fun, the Horizons Fishing Tournament funds children's grief support services of Hospice of Palm Beach County," said Greg Leach, president of Hospice of Palm Beach County Foundation. "Throughout our community, bereavement counselors help children and teens who have lost loved ones. Perhaps the most heart-tugging program offered is Camp SeaStar, a three-day camp where school-aged children can experience adventure counseling with those who can understand them like no one else — peers who have also experienced a loss."
Register by Wednesday, July 18 for a discounted price of $250 per boat, which includes up to six anglers, one short-sleeved T-shirt and two tickets to the awards ceremony. Registration at the captain's meeting costs $300. This year, you can purchase an official Hospice of Palm Beach County Foundation burgee — a way to fish in honor of your loved one, whose name will be displayed at the event.
To register for the tournament, call the Hospice of Palm Beach County Foundation at (561) 494-6884 or visit www.hpbcf.org. To become an event sponsor, e-mail Lauryn Barry at lbarry@hpbcf.org.
Hospice of Palm Beach County is the leading provider of hospice care in the community. Since 1978, its expert staff has cared for nearly 70,000 patients nearing end of life. When a cure is no longer an option, Hospice of Palm Beach County puts the needs of patients and families first — committed to doing whatever it takes to provide compassionate care and ensure the highest possible quality of life.
Above: Robert Spano, Taylor Folsom, Matt Shinedling, Mike Folsom and Ocean Folsom.