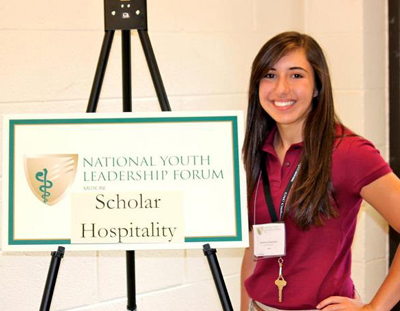 Jordan Gableman, a junior at the King's Academy, recently returned from the National Youth Leadership Forum on Medicine at the University of North Carolina at Chapel Hill.
The 10-day forum introduced Gableman to a broad range of issues in the medical field, including public health, medical ethics, research and general practice, as well as including visits to medical facilities and clinics.
By shadowing and interacting with leaders within the medical field, Gableman received a behind-the-scenes perspective on a medical career. Observing a total knee-replacement surgery as well as a laparoscopic hysterectomy via a live stream from the operating room was a learning experience for Gableman.
"This forum opened my eyes to so many opportunities in medicine and has solidified my desire to pursue a career in this field, possibly in physical therapy," Gableman said.
Gableman also enjoyed participating in a simulation where she was tasked to diagnose and develop a treatment plan for a fictional patient. The daily schedule was packed from 6:30 a.m. wakeup calls until the last class or lecture at 10 p.m., enabling Gableman to learn from doctors at Duke Medical School as well as some of the nation's leaders in the medical field. Gableman also loved meeting students from around the world who had similar interests and goals.
"I am grateful for my science classes at the King's Academy, particularly human physiology, that helped me to understand lectures and grasp detailed concepts that were presented," Gableman said.
"TKA encourages our students to participate in enrichment opportunities like the National Youth Leadership Forum on Medicine to broaden their perspectives and immerse themselves in a field in which they are interested," TKA Headmaster Kevin Colling said. "Programs like these help students make informed decisions about their futures, and coupled with our job shadowing and other career exploration tools, our students receive a hands-on education in their fields of interest."
The King's Academy is a nationally recognized private Christian school serving approximately 1,200 students from preschool through 12th grade and is accredited by the Southern Association of Colleges and Schools, the Association of Christian Schools International and the Florida Association of Christian Colleges and Schools.
The King's Academy serves students and their families across Palm Beach and Hendry counties at its main campus at Belvedere Road and Sansbury's Way in West Palm Beach, its Clewiston campus on Caribbean Avenue, and its satellite preschool campuses in Greenacres, Palm Beach Gardens and Royal Palm Beach. More information about the King's Academy is available online at www.tka.net.
Above: Jordan Gableman upon arrival to the program.