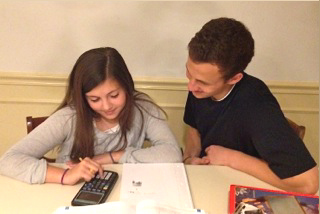 PeerGenius Tutors, a Maryland-based LLC, is expanding into Palm Beach County and currently hiring Wellington and Royal Palm Beach area high school students to be peer tutors.
PeerGenius Tutors is a private tutoring service that trains top high school students to help their younger peers in all K-12 subjects, study skills, organization and time management. After successfully implementing this high-quality, affordable option in the Baltimore-Washington, D.C. area, the company is offering its services in Florida, beginning with Palm Beach County.
The company has jobs for teens who are strong overall students or who excel in a particular subject area.
Hiring additional students is part of the company's growth strategy to create flexible, above minimum wage jobs for young people who help their peers.
"We're very excited to bring the private peer tutoring model to Florida," said Enid Traub, president of PeerGenius Tutors.
Traub is particularly interested in Florida education as she grew up in South Florida and graduated from Nova High School in Fort Lauderdale before pursuing psychology at Georgetown University.
There are over 500 research documents proving the effectiveness of peer tutoring, according to the ERIC Clearinghouse on Educational Management. Some of the documented reasons are that peers relate better, understand each other easily and peer tutors are closer to the curriculum, having recently succeeded in the same courses. PeerGenius Tutors also has many client testimonials showing the peer tutor model is truly a concept that works.
The company began hiring local students in June and will be ramped up for the start of the new school year. Francesca Otero-Vargas, a rising senior at the Dreyfoos School of the Arts, recently joined the PeerGenius team.
"I love learning and feel that it is important for students to have help available to them," she said. "And I am thrilled to find a job that can fit into my busy school schedule.
Students can choose the number of hours they work, when they work and which subjects they feel comfortable tutoring.
In addition to pay that is well above minimum wage, research has shown that peer tutors benefit in many ways from teaching other students.
"It's also real work experience and a great item for college applications," Traub said.
Students can get more information and apply on the PeerGenius Tutors web site at www.itspeergenius.com.
PeerGenius Tutors is a Maryland based LLC providing individual, private peer-to-peer tutoring that is effective and affordable. PeerGenius Tutors are high achieving students from area schools trained to help in any K-12 subject.
Certified PeerGenius Tutors are matched with students utilizing GeniusMatch, a proprietary 10 point matching process, to ensure success.
Above: A PeerGenius tutor works with a middle school student.