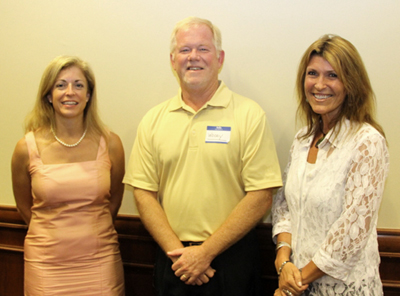 The Wellington Chamber of Commerce presented the fourth session of its Small Business RoundTable on Thursday, Aug. 2 at the Binks Forest Golf Club in Wellington. Titled "The Nuts and Bolts of Planning and Marketing," the presentation featured Maizie Hale Voils of Maizie Hale Voils Public Relations as the moderator.
Woody White of Pin Point Strategic Solutions began the session with a discussion about business planning and creating the most efficient and profitable ways to operate one's business in order to increase the bottom line. He explained how to analyze a business, including the following: defining oneself, goals, vision, mission, niche, utilizing the SWOT (strengths, weaknesses, opportunities, threats) method to design a roadmap, monitoring finances and measuring success.
Cheri Pavlik of Hendick Brothers Construction discussed market research. She explained the importance of defining who the business's consumer really is, and how to target that specific market. Pavlik provided the definition of market research and reviewed the process of gathering, recording and analyzing market data. In addition, she noted the importance of understanding the preferences, attitudes and behaviors of consumers when researching.
Monica Kallas of SharpShooter Marketing Group ended the session with a discussion of grassroots marketing. This included a review of traditional methods for a business to connect with its community in ways that are not expensive but create trust and recognition within the community. She said that in today's age, digital, video and audio advertising are important and vital ways to advertise; however, all businesses should incorporate basic grassroots marketing into their mix to maximize their presence in the marketplace.
The Small Business RoundTable will meet again in September at a date to be announced shortly. The topic will be human resources and employee management. The cost is $10.
Small Business RoundTable sessions cover many aspects of business, including accounting, legal and financial matters, traditional marketing, digital (Internet) marketing, market research, public relations, branding, motivation, employee management, business planning, etc. Experts in these particular fields share their knowledge in an informative and interactive atmosphere. All businesses are invited to attend.
The Small Business RoundTable series was created to help area businesses by providing powerful, useful tools and knowledge for them to attain their business and financial goals.
For more information, visit www.wellingtonchamber.com or call (561) 792-6525.
Above: Small Business RoundTable speakers Cheri Pavlik, Woody White and Monica Kallas.