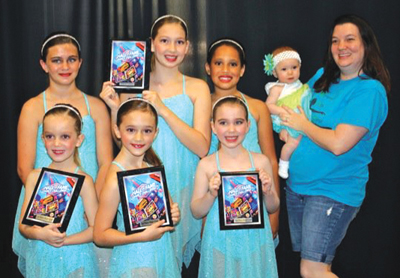 Students from Movement Arts Dance Academy have been busy over the past several months, participating in competitions and events throughout the state and within the studio, in addition finishing the school year with their fifth annual recital.
The Movement Arts Competition and Performance Company, under the direction of Kelly Todd Grandusky, this past spring attended two competitions, where they scored platinum and high gold awards, in addition to receiving a first-place overall award and special judges' choice awards.
In addition, these students were busy performing at local events, including a kids fest at the Palm Beach Zoo, a health fair at Union Congregational Church in West Palm Beach and a kids day at the Boynton Beach Mall.
In July, five of the dancers attended their first-ever national dance competition, Dance Theatre USA in Orlando, where they competed and participated in convention classes. The duet "Mother's Prayer" received a gold award (the highest award given) and a second place overall in the Duet/Trio Category. The solo "Blessings" also received a gold award.
As the summer comes to a conclusion, the studio has added one more week of summer camp. The camp will be held the week of Aug. 13-17 from 9:30 a.m. to 3:30 p.m. The cost is $150 for the week and is for students ages 5 to 10, or entering kindergarten through fifth grade. The theme of the camp is "Back to School/Grease" and will conclude with a Grease-themed performance on Friday, Aug. 17 at 3:30 p.m. There are still spaces available in this camp, so if you are interested, call the studio at (561) 792-9757.
In preparation for the studio's sixth year, open houses and free classes for returning and prospective students will be held each evening Aug. 13-16 and on Saturday, Aug. 18. The schedule of classes is available on the studio's web site. Regular classes will begin on Wednesday, Aug. 22.
New students wishing to find out more about the studio, or how to register, may visit the Movement Arts Dance Academy web site at www.movementartsdanceacademy.com or call the studio at (561) 792-9757 for more information.
Above: Kelly Grandusky (right, holding Kendall) with Mini and Junior Company members (front row, L-R) Hayden Pontius, Katelyn Ecker and Reilly Gerhart, and (back row) Katy Gorham, Alex Whittington and Preye Ford holding awards from the Hall Fame Challenge.