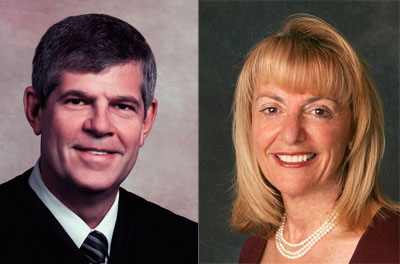 Attorney Margherita Downey (above right) is challenging Circuit Court Judge James Martz (above left) for his spot on the bench in this month's election.
Both candidates hope to secure the Circuit Court Group 26 seat on Aug. 14. The nonpartisan election is open to all Palm Beach County voters.
Downey earned a bachelor's degree from Barry University, a master's degree in public administration from Florida Atlantic University and a law degree from Nova Southeastern University.
She worked for four years as a Florida state trooper and then served as a Palm Beach County Sheriff's Office reserve officer. In 2000, she became an assistant public defender in Palm Beach County, a position she held for three years. Downey now works as an arbitrator for the Florida Bar Grievance Mediation & Fee Arbitration Committee.
Downey said she has dedicated much of her career to assisting youth and families through the legal system, be it with her work for the Guardian Ad Litem program, the Children's Rights Council of South Florida or as a Youth Court volunteer judge.
"I have represented thousands of everyday people, from moms and dads to grandparents, children and teenagers," she told the Town-Crier. "I have listened to their problems and seen their tears. I have a heart for families and compassion for people."
Downey said she is the most experienced candidate in the race and will be able to work not only in the family court but in all divisions of the circuit court.
Downey said she decided to run in order to help people. "I can help more people as a judge than I can in private practice," she said.
She said she chose to run against Martz because she felt that he does not respect the people in his courtroom, especially women. "I believe I can do a better job," she said. "I believe I'm better qualified. We need a change on the bench, and Judge Martz does not have the judicial demeanor for family court."
Downey said she is financing her own campaign. "I'm putting my money where his mouth is," she said. "I'm not taking contributions. I feel that good public servants need to be honest with the public and serve the public, and that's what I intend to do."
For more info., visit www.msdowney.com.
Martz, a native of New York, was born into a family of law-enforcement officers. When he was 20 years old, he moved to Santa Monica, Calif., and joined the police force.
In 1979, he returned to New York and joined the police department there, where he served 14 years. He later moved to Palm Beach County and earned his law degree from Nova Southeastern.
Martz worked for 11 years in the state attorney's office and most famously prosecuted Rush Limbaugh. He was nominated and appointed to the county court, where he served in the civil, criminal and domestic violence divisions for five years.
Two years ago, he applied to move to the circuit court and was again nominated and appointed. "I'm very proud that I was able to get appointed," he said.
During his time on the circuit court bench, he has worked mostly in family court. "It's a challenge," he said. "It can be frustrating, but it's what I do. I have served people all my life, and I've never shied away from a tough assignment."
Martz said he has worked to help families by bringing everyone to the table. "I can't take all the credit," he said. "I have always been a collaborator, bringing all the stakeholders together to work and recognize the needs of everyone else, then coming up with a plan that will benefit everyone."
Martz characterized himself as a hard worker, noting that he has cut in half a 14-month backlog. "People should be able to get on with their lives," he said. "You want families to know the answers in a reasonable time, or the acrimony gets worse."
Martz said that his opponent has appeared infrequently in his court and is getting information from litigants who were unhappy with his decisions. "It appears to me that she has taken one side of the story as gospel and made a judgment of me," he said. "That is the exact characteristic we don't want on the bench."
He said that based on one incident in court, she has labeled him as disrespectful toward women. "I requested for her to follow a simple rule, which was to go out and talk to the other side," Martz said. "I said it to both lawyers, and the lawyer opposing her was also a woman."
Martz said that voters should choose him because he has shown he is experienced, efficient and dedicated to the job.
"I have an exemplary record," he said. "I've never been disciplined by any regulating body. My appellate reversal record is the lowest in the county. I've also become an example of efficiency in family law and continue to work tirelessly in the hardest division."
For more info., visit www.votejudgemartz.com.