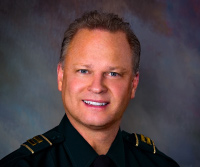 Getting Wellington's transitional neighborhoods back on track will take measures "with some teeth," Palm Beach County Sheriff's Office Capt. Jay Hart told members of the Wellington Village Council on Tuesday.
The issue arose during discussion of the PBSO's agreement and service plan with the village.
Hart (shown above) said that among his goals for next year is to reduce property crime below 1,000 incidents, but added that doing so might take some help from the village.
"What is the common denominator of crime?" Hart asked. "It's the population that moves in; it's the population that moves out. If we have a population moving into our village that we can't control, crime is going to go up."
He noted that Wellington has 10 deputies for a population of 58,000 people.
"We're playing zone defense," Hart said. "There's only so much we can do. Every year we ask ourselves what we can do. Can 10 deputies affect crime?"
Hart said that most of the crime comes from a small percentage of communities.
"I believe that 8 percent of our neighborhoods are causing 30 percent of our crime," he said. "Those are rental communities. So if you have any tools in our tool chest that can help our landlords, I'm asking if you can help."
He pointed to the Landlord 411 program, which Wellington began last year, hoping to bring landlords together to address the problem.
"I thought that was a great program," he said. "I don't know where [Wellington] is at with the program, but if we could help move that forward, it would be great."
Hart said that in the White Pine area, a landlord had agreed to move problem tenants out but grew concerned when other landlords didn't follow suit.
"He had 10 units move out because they were undesirable residents," Hart said. "But he was watching the other landlords fill up their units. He kept asking why he was the only one not making money. So what is he going to do? He's going to fill up those units, and we're going to have to keep going back to the same houses to deal with problem residents."
Hart said that arresting those residents doesn't seem to curb the problem.
"We need to bring some teeth into this," he said. "It's going to affect our crime. We're going to do the best we can, but if there's another way to fight this battle, I'm open to it."
Vice Mayor Howard Coates said he was concerned about the transitional neighborhoods.
"I keep hearing anecdotally that the transitional neighborhoods are slipping," he said. "We had initial progress and made that better, and now it's slipping. I also keep hearing that we have an increasing gang presence here in Wellington."
If that was true, Coates said he'd like to develop measures to stop it. "I have found it's easier to deal with things in their nascent stage," he said.
Hart said it was hard to say whether the neighborhoods were declining.
"We find with crime that it ebbs and flows," he said. "We are probably in a time when it is flowing. Can you attribute it to the population? Probably."
Hart said that there are several ongoing investigations that he couldn't comment on.
"But there is a light at the end of the tunnel, and it's not a train," he assured council members. "I don't think it's out of control. It goes back to maybe getting with landlords and getting participation. I think we could get landlords together and get good people in there."
Regarding gangs, Hart said he was not aware of any known gang members living in Wellington. "There are some wannabes," he said. "But as far as known gang members, do they come into the city? Absolutely. They travel the county. It's a regional problem."
He said that it might not take additional law-enforcement officers to curb crime but, instead, government and the community coming together to address the problem.
Councilman John Greene pointed to The Isles at Wellington, where the community has come together to stomp out crime.
Hart said it was an effective program. "It reduced crime in one neighborhood by 85 percent in residential and 95 percent in vehicle," Hart said. "Everybody communicated. It's a matter of getting on board, sitting down at the table and trying to figure out how it can be applied village-wide."
Mayor Bob Margolis recalled that Wellington has tried in the past to encourage good citizens to come to Wellington while curbing those who might cause crime.
"We called it the renter's agreement," he said. "We do, in this village, need to give you assistance with the transitional neighborhoods and some of the single-family homes."
Margolis said he wanted to know not where crimes are being committed but where the known criminals are living.
"I bet you dollars to doughnuts that you're going to see a great influx of those people doing the crimes living in the transitional neighborhoods," Margolis said. "I think we should stop at nothing to give you assistance."
In addition to discussion of the transitional neighborhoods, Hart told council members that he aims to reduce property and violent crimes as well as traffic fatalities.
"This year, residential burglaries are down slightly and vehicle burglaries are up," he said. "Ninety-nine percent of those vehicles are unlocked. It's very hard to prevent that."
He said that though Wellington has a low crime rate, with many residents living in gated communities, there is a false sense of security.
"We have many kids out there creeping," he said. "They are going around and opening doors. They are not smashing windows, just opening doors and taking what they can get."
Hart said that a current problem has been robberies prompted by criminals selling items on Craigslist. "We have had three people who wanted to purchase an item drive to Wellington from out of the area, and they end up getting robbed," he said.
The issue of traffic fatalities is a concern countywide, Hart said. He attributed the problem to texting and driving, which is currently not illegal in Florida.
"It's not unique to Wellington," he said. "There have been increased fatalities across the county."
Deputy Village Manager John Bonde told council members that the $7.6 million agreement with PBSO remains unchanged, both in price and manpower, for three years in a row.
Greene made a motion that the council approve the agreement, which carried unanimously.