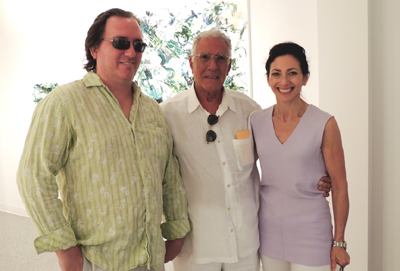 The Cultural Council of Palm Beach County held a reception for Palm Beach County artists Alyssa di Edwardo and Nathan W. Dean on Saturday, July 7. Di Edwardo and Dean each recently exhibited a unique collection of their original works in solo exhibitions through July 7 in the cultural council's exhibition space in downtown Lake Worth.
Friends and guests gathered that afternoon in the gallery of the cultural council's exhibition space to recognize the work of di Edwardo and Dean, and to celebrate the artists' collections showcased in individual solo exhibitions.
Di Edwardo mingled and shared personal insights about her approach to art.
"I think so many times we see the end result of things," said di Edwardo, who was on hand to greet guests to the invitation-only reception. "It's what goes into the work, the layers… the process. That's what I intend that people who view my paintings discover when they see them. Each time, I hope they see something… a new color placed… that they hadn't noticed the first time."
Patsy Jones of Delray Beach represented Dean, who was out-of-the country.
"Nathan really would have liked to have been here today, and appreciates this opportunity," Jones said. "He works very hard at capturing light and is intrigued by shadows."
Jones gestured to one of Dean's featured works, titled Beach Run. "In this photograph, he waited and waited for the shadow to come," Jones said. "He was more interested in the shadow than the object."
Di Edwardo, of West Palm Beach, has exhibited her work in various spaces and her paintings are in some prestigious collections. Her solo exhibition featured a collection of paintings that involve gestural brush strokes and highly textural palettes and give viewers a feeling of intense movement.
Dean, of Delray Beach, presented his series "The Art of the Image" for his solo exhibition. The collection represented a sample of the artist's original photographic works that have been featured in several exhibitions throughout Palm Beach County.
"Many artists exhibit their work in solo exhibitions for the first time here at the cultural council," said Rena Blades, the council's president and CEO. "Receptions provide a nice culmination for artists as their exhibitions come to a close. It is a recognition and celebration shared among their friends, family, and invited guests."
Most recently, di Edwardo was selected by juror Valerie Leeds, adjunct curator of arts at the Flint Institute of Arts in Michigan and former curator at the Whitney Museum of American Art in New York for the 60th annual All Florida Juried Competition Exhibition at Boca Raton Museum of Art. Among her accolades, di Edwardo was recognized by her election into the registry of the National Museum of Women in the Arts in Washington, D.C.
Artists interested in learning more about the Cultural Council of Palm Beach County's solo exhibitions are asked to contact Nichole M. Hickey, the cultural council's artists' services coordinator, at (561) 472-3336 or nhickey@palmbeachculture.com.
Above: Artist Alyssa di Edwardo (right) with friends at the reception.