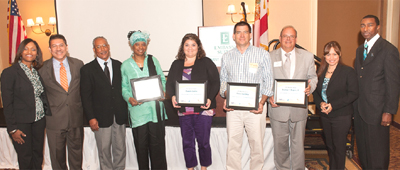 Each year, the Hispanic Chamber of Palm Beach County, the Black Chamber of Commerce of Palm Beach County and event founder Hospice of Palm Beach County co-host an event to recognize outstanding community initiatives that have changed the face of Palm Beach County, working with all races, cultures and disabilities to create a better community.
The fifth annual Blue Dove Awards were held July 11 at the West Palm Beach Embassy Suites, with keynote speaker Carlos Mahecha, executive director of CW West Palm TV.
This year, the Black Chamber's 2012 Blue Dove Award goes to Ricky Wade, community advocate and local McDonald's owner. The Hispanic Chamber's 2012 Blue Dove Award was presented to Owen O'Neil, president and executive director of Clinics Can Help.
"I am always amazed at the number of professionals who truly give back to our community selflessly," said Bruce Lewis, chair of the Black Chamber of Commerce of Palm Beach County. "This event spotlights the impact that can occur from just one great idea that brings the community together, and Ricky Wade is the very essence of a community champion."
Wade was honored for his tireless and unselfish community service and initiating athletic programs for inner city children. The owner of 11 McDonald's restaurants, Wade is an active community advocate who serves on the boards of Ronald McDonald House Charities of South Florida, Palm Beach State College, United Way of Palm Beach County and the Urban League of Palm Beach County.
O'Neill, founded a nonprofit that currently provides durable medical equipment at no cost to 275,000 patients who cannot afford it. "Owen O'Neill recognized an urgent need in our community and created an innovative and effective way to fill it," said André Varona, CEO of the Hispanic Chamber of Commerce of Palm Beach County. "Thanks to Clinics Can Help, this equipment has transformed lives, offering comfort and mobility to those who might suffer without it. I cannot thank this man enough."
Nominees for the 2012 Blue Dove Awards included Pam Avalos, a medical professional who holds health fairs that offer education and free health screenings throughout the county; Irving Layton, a longtime volunteer and president of the South County chapter of the National Parkinson Foundation; Erskine Rogers, an attorney who has dedicated many years as a pro-bono guardian for special needs medical patients; Dr. Connie Siskowski, founder of the American Association of Caregiving Youth that serves the hidden population of child caregivers; Karen White, a dialysis patient and advocate who has created numerous initiatives representing kidney patients in the county; Juan Williams, a State Farm agent who has held education programs on insurance issues for 20 years in the African-American and Hispanic communities of Palm Beach County; and Aneesha Hanif, who is president of the International League of Muslim Women and active member of the National Association of Negro Business & Professional Women, Greater Palm Beaches Chapter, the Sickle Cell Foundation of Palm Beach County and the Treasure Coast and the Black Chamber.
Hospice of Palm Beach County is the leading provider of hospice care in the community. Since 1978, its expert staff has cared for nearly 70,000 patients nearing end of life. When a cure is no longer an option, Hospice of Palm Beach County put the needs of patients and families first — committed to doing whatever it takes to provide compassionate care and ensure the highest possible quality of life. For info., visit www.hpbc.com.
Above: Blue Dove Awards 2012 Presenters and Nominees Dominique Nelson, Andre Varona, Bruce Lewis, Aneesha Hanif, Pam Avalos, Owen O'Neil, Erskine Rogers, Dayana Rooks and Bishop W. O'Shea Granger.