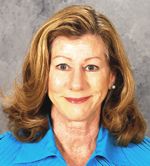 Royal Palm Beach Village Council members next week will consider including a dog park at the new Royal Palm Beach Commons Park.
Councilwoman Martha Webster requested that the item be added to the village's capital improvements budget. The idea will be discussed at the council's Thursday, Aug. 16 meeting.
Webster said several residents proposed a dog park there during workshops in 2006. They have asked her why it's no longer in the plan for the park, located on the east side of Royal Palm Beach Blvd. between Southern and Okeechobee boulevards.
"It was a component that residents had been interested in," she told the Town-Crier Tuesday. "Residents down on the south end of the village along Sandpiper and Heron Parkway have again contacted the council and asked about the possibility of the dog park."
Webster said she thinks people are questioning this because the park is nearly completed, with no dog area in sight. She said she has spoken with several residents who stood up for a dog park.
"When I took a look at the budget, I noted that there was money… for a flying disc park," Webster said. "When I questioned staff about the cost, a flying disc park was $30,000 [and] a dog park was $50,000."
While there are dog parks in RPB, none are at the southern end of the community. Webster said she has "brought it back to request the council step up the extra $20,000 and make it the dog park."
Webster said the village engineer would describe what a dog park would entail for Commons Park at the Aug. 16 meeting.
"What we need to do now is bring it back and have that public discussion and council vote as to whether they want to step up from the cost of the disc park to a dog park," she said.
Webster acknowledged that a majority of the council will decide, but she stressed that the request is coming from residents, not her.
"It's not a new concept for Commons, and if we're going to invest in something that wasn't even asked for, why not just step up and get what people want in our capital improvement now?" she said. "I do have broad support from the residents on this."
Elizabeth Wagner, who lives in the Willows, is one advocating a dog park. "I drive by Bobbie Jo Lauter Park all the time and I suggested a couple of years ago that they turn that park into a dog park," Wagner said. "All they'd have to do is add some parking spaces and change the fences."
Wagner said she e-mailed the village with the suggestion, but no action was taken. When construction on Commons Park commenced, she repeated her request, and Webster wrote her back suggesting she request it at Commons Park. "I live on one of the border streets there, and all the neighbors have to walk their dogs on the streets," she said. "It would be a good place for a dog park in the south part of the village."
Wagner said she still thinks Bobbie Jo Lauter Park would also make a good option. "It's rarely used," she said. "I never see anybody there. It seems like it's underutilized. It's a nice little place."
Above: Councilwoman Martha Webster