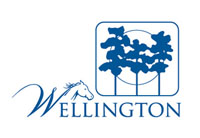 Members of the Wellington Equestrian Preserve Committee had preliminary discussions Wednesday, Aug. 8 regarding the creation of Wellington's Equestrian Master Plan.
Wellington has been in the planning stages of crafting an equestrian master plan for more than a year, and now staff has asked committee members to use their knowledge of the equestrian community to review and solidify collected data.
"We're treading new ground here," Equestrian Master Plan Project Director Mike O'Dell told committee members. "This has not been done anywhere else. There's no formula out there. We're creating that. I am creating it with you. Your input is very valuable."
During the last show season, O'Dell, along with students from Florida Atlantic University, collected data from all aspects of Wellington's equestrian community.
"The idea was to break this down," O'Dell said. "We will be coming back to you with a summary of all of the data we have been collecting."
O'Dell said that formation of the master plan would be done in stages, with preliminary stages including collecting additional data, followed by review and finalization of data. Then, at the end of this year, the committee would meet with council members and in January draft a vision, goals and objectives for the master plan.
"Because you all are familiar with the Equestrian Preserve Area, I would ask you all to do a cursory review of the areas you are most familiar with," he said.
O'Dell cautioned that the data collected assumed that every stall in the area correlated to a horse.
"The assumption that is made, and the driver behind all of this, is that for every stall there is a horse," he said. "Now, that may not be true. We can debate the issue, but I think the idea here is that we're trying to come up with something that is reasonable."
Committee Member Lisa Elie asked how the data accounted for issues where a barn is unoccupied until season. "How do you account for it when during season I have nine horses on my property?" she asked.
O'Dell said the data took note of the number of stalls. "I have no way of knowing whether horses are there year-round or seasonal," he said.
O'Dell said that reviewing the data was crucial to understanding the issues in Wellington's equestrian community.
"It's the basis for how we start asking questions and derive many of the things that we're going to talk about as backup to the master plan," he said.
Committee members agreed to split up the neighborhoods and look at the data.
O'Dell said the next step would be to make sure Wellington has the breakdown of disciplines correct. "If we missed a discipline, or if there's a change, we'd like to be aware of that," he said. "We want to make this as accurate as possible."
O'Dell also included information about golf cart usage in Wellington, noting that the village hopes to have improved circulation for travel.
"The golf cart issue isn't important south of Lake Worth Road," Committee Member Carlos Arellano said. "It is important from Pierson and South Shore to the show grounds, and maybe in Saddle Trail."
Several committee members said that they supported a legal way for residents to use golf carts for travel but not on bridle trails where they could clash with horses.
Committee Chair Cynthia Gardner said that she was in favor of a golf cart ordinance "where people can legally drive on roads where there are designated pathways for three-wheelers, mopeds and other motorized vehicles that people can use to get back and forth."
She noted although areas in the northern part of the preserve use these methods more, other residents might decide to take their golf cart rather than drive if it were legal.
Committee Member Dr. Kristy Lund agreed. "It's so easy to travel by golf cart," she said.
At the same time, she cautioned that horses and vehicles must be separated. "We need to separate horses and motorized traffic," Lund said. "We need a better way of moving horses through the Pierson corridor into the show grounds."
Gardner said that she has had conversations with show promoters Equestrian Sport Productions, who were favorable to the idea.
"They seemed very excited about the idea of having some alternative plans," she said. "This will also open up some other bridle paths that people aren't using because they are so inundated with golf carts."
Gardner pointed out that the state requires golf cart drivers be at least 14, but that she's talked to many people who believe the age should be older.
Lund asked what age you had to be to drive a golf cart on the show grounds, and Gardner said drivers must be at least 16 and have a valid driver's license.
Gardner suggested an ordinance require a driver to be 15 with a learner's permit, but several committee members said that would be an issue if they can't drive on show grounds property.
O'Dell said he would gather more information and come back to the committee for additional discussion of the issue.