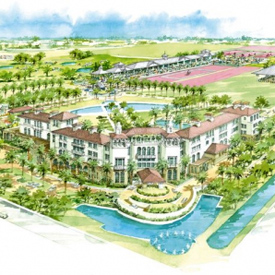 A new voice representing equestrian professionals has come to the table regarding Wellington's divided equestrian industry. The organization, dubbed the Equestrian Forum of Wellington, is hoping to represent those who make their livelihoods from the industry.
More than 75 people packed into Utopia at Polo West on Tuesday, July 31 for the group's inaugural meeting, which became heated at times.
Formed by equestrian professionals Jack Mancini, Terri Kane, Gaye Scarpa and Kathy Brown Mailloux, the group formed after, they said, several recent decisions put the upcoming equestrian season in jeopardy.
"Our purpose was to bring together people who have an opinion on the equestrian industry in Wellington that might be a little different than what we've heard or experienced," Mancini said. "I think many people feel that the equestrian industry has not been given a voice."
By "equestrian industry," Mancini said he was referring to those who make the bulk of their income from the horse show season — be they grooms, vets, retail shop owners, photographers or any people in any other profession.
"I am a small business owner, and I depend on the equestrian events in Wellington — all of them," he said.
Mancini stressed that the group was not aligned with any side of the debate but purely intended to represent the equestrian professionals in Wellington. "It's for people who make their living from this industry," he said. "That's what's important."
The group's founders point to recent decisions by the Wellington Village Council that they say have created a crisis surrounding the equestrian industry.
After the master plan allowing a permanent dressage arena on the Equestrian Village property was revoked, Mancini said that no other permits had been issued to allow shows there.
Mancini said that although opponents of the equestrian venues want to return Wellington to its roots, the community has changed.
"Since Prince Charles played polo on that site, the identity of Wellington was forever changed," he said. "It's not a little town that supports the use of horses. It's much larger than that. It's one of the biggest world destinations for people to come watch show jumping, polo and now dressage."
But with the revocation of the Equestrian Village master plan, Mancini said the Forum founders were concerned about the upcoming dressage season.
Kane, who owns a dressage farm, said that last year the dressage barns saw record numbers of occupants. "For the first time, we were turning people away," she said. "But because of the things that have happened since then, people think the dressage season is not happening. I should be taking reservations now, but people are not planning to come to Wellington because they don't know if there will be a competition."
As its first order of business, the group has asked those in support to push for council members to grant all necessary permits for the 2013 season to happen.
"It has not been approved on the agenda," Kane said. "We need to make our voices heard and let them know it's very important."
Mancini said that another immediate way people could help would be to sign a petition that "calls on the Wellington Village Council to take immediate action to allow the Global Dressage Festival… to occur at the dressage and derby facility."
Equestrian Sport Productions President Michael Stone said permitting is a complicated process.
"The problem is that it's not as simple as getting a special use permit," he said. "The process could take three or four months. In addition, the special-use permits did not give us permission to use the permanent structures."
But Stone told the group that his organization had been in talks with the village. "We are working with the council," he said. "We believe we will get somewhere over the next two to three weeks."
Discussion got heated when veterinarian Dr. Scott Swerdlin pointed out that most of the council was present and suggested that they address the matter.
But Mayor Bob Margolis said that would be a violation of the Sunshine Law.
After the meeting, Councilman John Greene told the Town-Crier that although he could not speak at the meeting, he would be in favor of issuing the special-use permits necessary for the 2013 Global Dressage Festival.
"We are not killing dressage in Wellington," he said.
Greene pointed out, however, that his concerns with the master plan changes included allowing events on the site that were not necessarily equestrian-related.
Margolis also said he supports dressage. "The council is committed to making sure there is a dressage season in Wellington next year," he told the Town-Crier Wednesday.
One speaker, local businessman Jack Van Dell, said that he understood that if the show promoters sent in their applications on time, they would be approved.
"Everyone in the free world who lives in Wellington wants to see the success of the equestrian industry," he said. "I understand that it is on the Aug. 14 agenda. As I understand it, it will be approved if [promoters] send all the proper papers. This is not a crisis. It's not the end of the world."
Carol Cohen of Two Swans Farms said she felt betrayed.
"I am in shock that this has happened," she said. "I'm angry. I'm really passionate about this. What can we do?"
Several attendees suggested a door-to-door campaign and making shirts and other propaganda to make non-equestrian residents aware of the issues.
Mancini said he'd like to see everyone with a professional interest in the industry get involved.
"What that means, I don't know yet," he said. "We would like to form committees and get people involved to make us an effective voice for our cause. We're gathering momentum."
For more information on the Equestrian Forum of Wellington, e-mail equestrian.forum@live.com.
Above: An artistic rendering of the controversial Equestrian Village project.