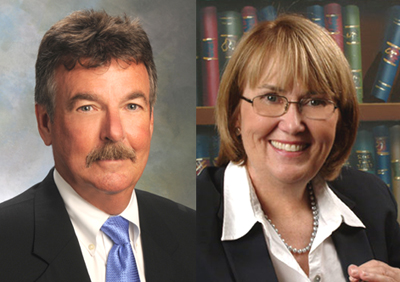 Two candidates are on the ballot in the race for the open Palm Beach County Court Group 6 seat in the Aug. 14 election.
Former Judge Edward Garrison (above left) and attorney Jane Sullivan (above right) are vying for the seat being vacated by retiring Judge Nelson E. Bailey.
Garrison, 59, has more than 30 years' experience serving as a Palm Beach County judge. He is a native Floridian who received his bachelor's degree from the University of South Florida and his law degree from Florida State University.
The youngest judge ever elected in Palm Beach County, Garrison served as a county court judge from 1980 — when he was 27 — to 1989 before moving to the circuit court, where he served until 2010.
"This race is all about experience," Garrison told the Town-Crier Tuesday. "I've been on the bench for 30 years. I have served as a county judge and a circuit judge. I have the experience needed to do the job."
Because of Florida Retirement System rules, Garrison chose to retire in 2010. If elected to this new post, he will continue to receive his pension while also earning a salary.
"Even though I only had 30 years in, I had to make a financial decision," he said. "So I took on the senior judge status and spent a lot of time working on foreclosures."
But Garrison said he chose to run again because he enjoyed his work. "I missed my old job," he said. "I thought I would take a shot at the open seat."
Garrison said that during his time on the bench, he was known as "the guru of case management."
"I streamlined the dockets and moved things along in every division I've been assigned to," he said. "My organizational skills add a lot to the judicial system. I worked closely with the chief judge to help manage the circuit court."
Garrison said lawyers appreciate not only his fairness and impartiality but that he is willing to make decisions and keep things moving.
"Lawyers recognize that I move cases," he said. "I don't sit on my decisions. I am considered a decisive judge. I follow the law and keep cases moving."
Garrison said that his experience means he is ready to hit the ground running, no matter which division he's assigned to.
"With my experience, on day one I can serve anyone," he said. "I don't have that learning curve. You could call me a 'utility infielder.' I can fill in anywhere."
For more information, visit www.garrisonjudicialcampaign.com.
Sullivan, 62, has been an assistant public defender for 13 years, representing defendants in felony, misdemeanor, juvenile and appeals cases.
She received her bachelor's degree in sociology from Regis College in Weston, Mass. She returned to school at age 38 and received her master's degree in public administration from Harvard University. At age 48, she earned her law degree from Nova Southeastern University.
Sullivan worked in Volusia County for two years, and has spent 11 years in Palm Beach County.
In 2010, Sullivan lost her bid for a county court seat eventually won by Marni Bryson. Sullivan came in third, taking 21 percent of the vote.
Sullivan said she chose to seek the vacant seat not because of an issue with her opponent but because she feels she is the best candidate for the job.
"My most recent experience is obviously in the circuit court, but I have years of trial experience in county court as well," she said.
Sullivan noted that although most of her experience is in criminal court cases, she has experience in civil court. "Wherever I am assigned, I'll be willing to go," she said.
If elected, Sullivan said she would remain fair and impartial on the bench, and help to move cases through the system.
"I will do my best to maintain the integrity of the judicial system and keep up with the workload," she said. "I will be fair and impartial, and treat everyone with respect."
Sullivan noted that because she "wants to remain impartial," she has not been accepting campaign contributions.
Sullivan said she hopes voters will recognize her drive and choose her for county court judge.
"I love being in the courtroom," she said. "I think we need more women judges on the bench."
For more information, visit www.janeforjudge.com.