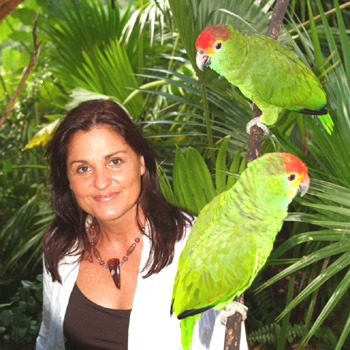 To Karen McGovern, art is nature and nature is art.
"Art and nature are one and the same to me," said McGovern, a Loxahatchee Groves artist. "You cannot have one without the other."
A conservation biologist by day and jewelry designer by night, McGovern finds her inspiration to create jewelry at home, where she also works, at the Rare Species Conservatory Foundation. Surrounded by rare animal species of parrots, primates and antelope, along with a multitude of plants natural to Florida's landscape, this is where she often discovers "finds" to incorporate into her artwork — bones, feathers and cat eyes, among them.
Ideas for McGovern's wearable art designs, which include necklaces and lockets, stem from original short stories and poems that McGovern herself has written. Each is displayed on parchment paper, and attached, to shed light on her unique creations.
"These stories I call, 'imaginings,'" McGovern said regarding the words that give wearers a delightful peek into her vivid imagination.
Antiquities, found objects such as fur, seeds, shells and botanicals, make up her sculptural works such as theaters, totems and talismans, to name a few of her freestanding creations. McGovern calls her designs an honest reflection of her view of the world. "Some of my designs are shocking, disturbing, yet compelling as well," she said.
As a member of the Palm Beach Cultural Council, McGovern has her art for sale at the Cultural Council's Uniquely Palm Beach Store in Lake Worth. The store features the work of 50 local artists and cultural organizations with more than 1,000 items in stock. When she sells her pieces, she puts the money raised toward boosting awareness for wildlife conservation.
"I'm showing this work nowhere else," McGovern said. "I hope the public embraces this gallery."
The Cultural Council is Palm Beach County's official arts agency and serves nonprofit cultural organizations and professional artists throughout the county. Its responsibilities include marketing the county's cultural experiences to visitors and residents, administering grants to organizations and artists, expanding arts and cultural education opportunities, advocating for funding and arts-friendly policies, and serving cultural organizations and artists through capacity building training and exposure to funders and audiences.
For more information, visit www.palmbeachculture.com.
Above: Artist Karen McGovern at her home in Loxahatchee Groves.