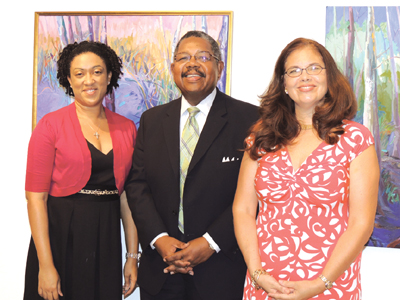 This summer, television viewers are invited to tune in to Cultural Capital and enjoy seeing kids in Palm Beach County classrooms learning through the power of the arts. The programs, hosted by Bill Nix, vice president of marketing and government affairs of the Cultural Council of Palm Beach County, regularly airs each month.
Cultural Capital will be shown at 10 p.m. Sundays, 10 p.m. Mondays, 3 p.m. Wednesdays, 11 a.m. Fridays and 10:30 p.m. Saturdays on Palm Beach County TV Channel 20.
In the first of the two-part series scheduled to air in August, Shawn Berry, the Cultural Council's manager of arts and cultural education, and Dr. Gail Burnaford, a Florida Atlantic University professor and expert in the area of arts integration, share with Nix what "arts integration" is and what it means when it comes to enhancing learning among children.
An added conversation with Nix, Pam Miller, chair of the Center for Creative Education, and Ronni Gerstel, a Palm Beach County artist, takes viewers inside a third-grade classroom at Hidden Oaks Elementary School in Lantana, to see how artists and teachers are working together, led by the CCE, to discover new, creative ways to reach children with the usual traditional lessons in social studies.
"It's a known fact that when kids have art in school, they perform better, behave better and have a better outlook on life," Nix said.
The second show, scheduled to air in September, will continue exploring enhanced learning opportunities for children with art when Burnaford returns, this time, sharing a conversation with Jan Rodusky, the Cultural Council's director of grants.
"The council is pleased to fund programs in arts integration by investing thousands of dollars into community educational programs," Rodusky said. "We believe very strongly in our efforts to introduce children to art — and to reach all types of learners by supporting the arts as a vehicle for learning."
An added segment in the show introduces viewers to Palm Beach County teacher Dr. Lavinia Draper, a Fulbright Award recipient, and Principal Adrienne Howard of U.B. Kinsey/Palmview Elementary School in West Palm Beach. The two will share successes at combing hands-on art projects with core curriculum components, and how Draper's application for the distinguished award won her a three-month scholarship to the United Kingdom.
In a conversation led by Nix, Draper and Howard will discuss the eagerly anticipated fall experience, when Draper will teach, share best practices with peer educators, and conduct research in her area of interest and expertise in arts integration.
Above: U.B. Kinsey/Palmview Principal Adrienne Howard with Cultural Capital host Bill Nix and teacher Dr. Lavinia Draper.