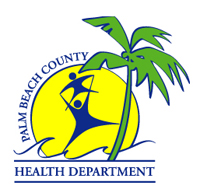 The Palm Beach County Health Department is warning residents in flooded areas of health concerns they should be aware of in the wake of Tropical Storm Isaac, including the possibility of contaminated wells, flooded septic tanks and mosquitoes.
Septic tanks in The Acreage, Loxahatchee Groves and equestrian areas in Wellington are of specific concern.
"A lot of those have been covered with floodwaters, and so have their drain fields," health department representative Tim O'Connor said. "When those drain off, it's probably a good idea to have them pumped out, because they will still be full to capacity even after those floodwaters go away."
Meanwhile, there could be seepage into the floodwaters.
"It's a good likelihood that those top waters are probably seeping up into the floodwaters on a person's property, so that's where some of your contamination will be coming from," O'Connor said. "It's kind of a bubbling-up. You wouldn't see anything like heavy fecal matter, but it could potentially have E. coli in it and other types of bacteria."
He cautioned that people should not go into the floodwaters.
"Our primary concern is the safety of all individuals, and we're concerned that they stay healthy, so we're putting out advisories as much as possible," he said. "One is avoiding those floodwaters or contact with the floodwaters. You can step on a nail; you have snakes, insects, chemicals from yard fertilizer or insecticides. We want to make sure people avoid contact with those waters when possible."
If you do come in contact with floodwaters, be sure to practice good hygiene, he said. "Make sure to use good soap and water to clean up, and use hand sanitizers when it's available," O'Connor suggested.
He said there is a shelter at the South Florida Fairgrounds for displaced families but that the health department is working with other groups for long-term shelter. "For some of the people who have to be evacuated from their homes, we're looking at a long-term shelter arrangement for them," O'Connor said. "The fairgrounds serve as more of an immediate situation, but we're working with the Red Cross and other providers for some potentially long-term housing if need be."
Residents can call the Emergency Operations Center at (561) 712-6400 for more information or for evacuation or if they have had water intrusion in their house.
O'Connor also cautioned that there will be swarms of mosquitoes as a result of the flooding, starting with the black marsh mosquitoes. "They don't generally carry any disease, but those will be the first ones people will see," he said. "That will be this weekend in a lot of areas, but in the next 10 days the culex, which carry the West Nile Virus and others, will start hatching out."
The Mosquito Control Division is getting its trucks ready to go at the first signs, he said. "They'll start with low-level spraying from the trucks, and then aerial spraying," he said.
People should drain any standing water around their homes if possible and empty any containers where mosquitoes can alight and lay their eggs, O'Connor said. People going outside should use insect repellent and wear long-sleeved shirts and pants.
O'Connor also cautioned homeowners to be alert to possible well contamination from the flood.
If floodwaters have reached a homeowner's well, if there is a change in the appearance or taste of the water, or even if they are unsure about the impact of flooding on the water quality in the area, they should boil all water they use for drinking, making beverages, cooking, brushing teeth, washing dishes and washing areas of the skin that have been cut or injured.
The water should be brought to a rolling boil for at least one minute. Bottled water may also be used for all those purposes.
If a homeowner's own well has been flooded, it must be disinfected and tested, O'Connor said. It is important to disinfect both the well and all of the household plumbing to assure that all infectious agents are killed. Anyone who has water treatment devices should replace all membranes, cartridges and filters. Water softeners and water heaters should also receive special attention to ensure that they do not reintroduce bacteria into plumbing systems.
For more information, contact the Palm Beach County Health Department at (561) 840-4500 or visit www.pbchd.com.