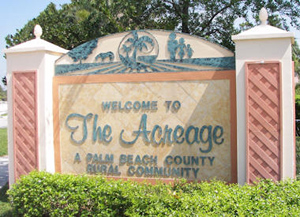 The Indian Trail Improvement District will host meetings next weekend to develop programs for the new community center being planned at Acreage Community Park.
The meetings will take place Friday, Aug. 10 from 6 to 8 p.m. and Saturday, Aug. 11 from 9 to 11 a.m. at the district office, 13476 61st Street North.
ITID supervisors said the goal is to give residents an opportunity to offer input on the type of programs the facility should offer.
Supervisor Ralph Bair said the discussions will be led by architect Rene Tercilla of Tercilla Courtemanche Architects in order to get input on details for the 18,000-square-foot building.
"They're going to ask people what kind of programs they'd like to see in the building to see if we can accommodate all these different types of things," Bair said. "We just basically want to see what types of people will be using it."
Bair said he would like to see a better turnout than at previous workshops to get input for the park expansion project.
"There hasn't been enough participation," he said. "We've been talking about this building for 10 to 12 years. It has just become an issue the past few years when we had the actual money to do it."
The board has $4 million available but hopes to come in under that figure to allow for additional amenities.
"I figured people would want to be more proactive and see what, besides a gymnasium and some ancillary workrooms, we could build in for the community and make it a more community-oriented center," Bair said. "It's not going to be just a gym; it's going to have more facilities inside."
The outside of the building will feature other amenities, such as a stage for entertainment and a concession stand to support both inside and outside activities. "It all depends upon what the people want, because they're going to be the actual ones using it," Bair said.
In earlier discussions, board members said a facility that size could have a gymnasium capable of housing a full regulation court with bleachers or two side courts where two games could be going on at the same time.
It tentatively will have an interior and exterior stage, as well as five or so programming spaces for classes, such as karate or art. The building would be divided so the outside could operate independently of the inside. Therefore, an outdoor concert can operate with a concession area and bathrooms without the need to open the entire building.
Bair said people have told him they would like a place to play cards or board games, or for older people to have a party. "It's not just for the kids," he said. "It should be a place where people can congregate and talk… It really becomes a gathering place."
ITID President Michelle Damone said she looks forward to the input. "It's an opportunity to engage with the community," she said. "It's really positive for the community, and I'm looking forward to the response."
Damone said the district is especially enthused that the architect, who has a rich history of designing public facilities, will be leading the discussion. "With the architect driving the outreach, it will be interesting to see how they respond," she said.
For more info., call (561) 793-0874 or visit www.indiantrail.com.