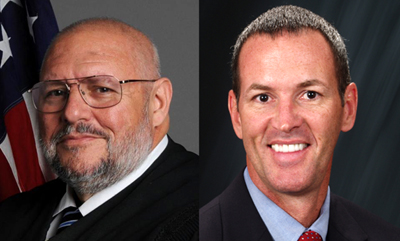 Palm Beach County Court Judge Peter Evans (above left) faces a challenge from attorney Kenneth Lemoine (above right) as he looks for re-election to the County Court Group 4 seat next week.
Evans was elected to the bench in 1988, giving him 24 years of experience. He earned his bachelor's degree at Ohio University in 1973 and went on to study law at Georgetown University in Washington, D.C.
Evans moved to Palm Beach County in 1976 to work for the law firm of Weathers & Narkier, doing insurance defense. Two years later, he opened a private practice on Military Trail. "Going that far west was unheard of," he recalled.
In 1988, he decided to run for judge. "It was something I thought about doing," he said. "The idea of a career dedicated to public service appealed to me."
In his time on the bench, Evans said he has not only been a fair and impartial judge but also an advocate for education and advancement of the court system. He has won several awards for his dedication to judicial education.
"I have done a lot in the area of judicial education," he said. "Judges go to school, and many years ago we decided that it was important for judges to be trained seriously."
Evans has shared his skills at the Florida Judicial College, where he has taught civil litigation. From 1993 to 2009, he served as dean of the Florida Traffic Adjudication Program, and he has written several publications for lawyers and Florida judges.
Evans also has been on the faculty of the National Judicial College since 1999 and on the Faculty Council since 2005. Twelve years ago he helped develop Internet distance learning courses.
He hopes to continue to advance the judicial system, bringing new technology into the court. "I've been pretty proactive in adopting some new technological procedures in the court system," Evans said.
He pointed out one such case, where computers could now scan through inactive cases to determine whether they should be thrown out. "It had been a labor-intensive process," he said. "Now one person can accomplish it in only a few hours."
One program Evans said he is particularly proud of is the Victim Impact Panel, which consists of victims of drunk drivers who share their experiences.
"A lot of times people don't understand the consequences of [drinking and driving] or why it's a criminal activity," he said. "It has a good effect on defendants because it gets them to re-evaluate their actions."
Evans said he hopes voters will recognize his dedication and experience and choose him next week.
For more information, visit www.reelectjudgeevans.com.
Lemoine did not return calls for comment this week. He did speak to the Town-Crier in 2010, however, during his bid for the Circuit Court Group 33 seat eventually won by Judge Lisa Small.
Lemoine was born in Alaska and moved to West Palm Beach when he was 11 years old. He spent two years in the U.S. Army and served as a West Palm Beach police officer for eight years.
Lemoine holds a bachelor's degree from Palm Beach Atlantic University and a law degree from St. Thomas University.
He said his work as a police officer originally got him interested in law.
"I was in and out of court all the time because I was very active as a police officer," Lemoine said during his 2010 interview. "During a murder trial, I felt like I knew more about the case than the state attorney."
After graduation, Lemoine worked as the in-house counsel for two Miami firms and in 2002 opened his own firm, practicing family, civil, criminal and personal injury law.
According to his web site, he has handled more than 500 cases in the past six years. These cases ranged from traffic citations to multimillion-dollar commercial litigation, personal injury and divorce cases.
While he has not served as a judge, he did act as a county traffic hearing officer and also as an expulsion hearing officer for the Palm Beach County School Board.
"I sit as the trier of fact," he told the Town-Crier in 2010. "I recommend whether students should be expelled. I have to listen to fact, apply the facts to the law and make a decision."
He characterized himself as someone who understands people.
"I served my country," he said in that interview. "I served my community. I understand people. As a police officer, I've seen it all, from the poorest of poor to the richest of rich, and all types of issues in between. It's a very worldly perspective."
For more information, visit www.lemoine4judge.com.