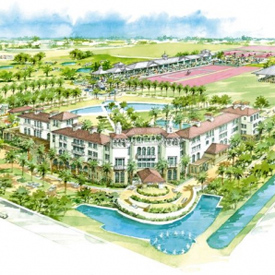 The Wellington Village Council will consider next week whether to approve necessary measures for the 2013 Global Dressage Festival season.
Council members will meet for a workshop at 3 p.m. on Monday, Aug. 13 to discuss the issue, which has concerned many.
Last week, a group of equestrian professionals calling themselves the Equestrian Forum gathered to draft plans to urge council members to put the measures on the council meeting agenda for Aug. 14.
Though all council members have said they support having the dressage competition in Wellington, some equestrian professionals expressed concern last week that the competition could be hindered if the village did not issue the necessary permits soon.
Village Attorney Jeff Kurtz said it would be up to the council whether the issue is discussed at Tuesday's council meeting.
"It's on the workshop agenda," he told the Town-Crier Wednesday, adding that the council will decide if it goes on the regular meeting agenda.
Asked whether all the necessary paperwork for a permit is in place, Kurtz said that he did not anticipate a special permit application.
Councilwoman Anne Gerwig agreed. "The way it's being proposed, it would be a stay of the revocation on the master plan until a certain date," she explained.
Gerwig said she has been disappointed with the process, which she feels is making it too difficult for expansion of the equestrian season.
"This arena brought potential for expanded use," she said. "If someone comes in and builds this kind of structure to expand the season, who else is going to offer that kind of money for the community? That's the part that really does something for the community. It helps to pad the beginning and the end of the season to help businesses. They can't do that if we only allow them to operate on a temporary basis."
Councilman John Greene said that Equestrian Sport Productions CEO Mark Bellissimo would be making a presentation at the Monday workshop.
"He submitted some information, and I think we will be able to find some common ground to get this on the agenda," Greene said.
Bellissimo confirmed that he'll make a presentation. "We're going to try to have it put on the agenda and hopefully come to an agreement and a temporary settlement so we facilitate the season," he said.
Greene pointed out that Bellissimo ran the show last year at the facility with temporary permits. "I had no problem with how he ran dressage last year," he said. "He has 10 dates listed, pretty much the same as last year. I have assured him that he has my support based on what he has submitted."
Greene said he hopes the meeting will be positive and that everyone can find consensus that will benefit the entire community.
"I hope we can focus on common interests," he said. "We need to focus on what is important."
Above: An artistic rendering of the controversial Equestrian Village project.