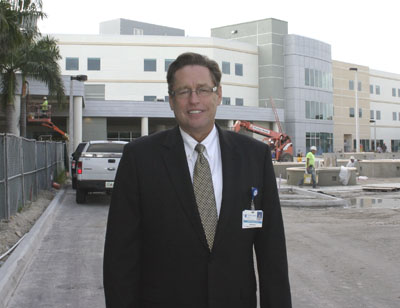 Wellington Regional Medical Center's $50 million expansion project is well underway, with a grand opening scheduled for Oct. 3.
The three floors of the 103,000-square-foot Alan B. Miller Pavilion will add 80 new private patient rooms to bring the total number of licensed beds to 233. It will also upgrade the comfort and overall patient experience, with décor that is anything but institutional.
"It's beautiful. You don't typically see finishes like this in a hospital. It's more like a spa. We really think this will set us apart, on top of the care that we provide. It's first-class," Lauren LaPonzina Saver, director of media relations, told the Town-Crier on Tuesday.
The addition of the pavilion will reconfigure the hospital so the entrance is on the north side, rather than the south side as it is now, allowing direct access from the parking lot, with a large patio and drive-through at the entrance to allow patient and guest drop-off.
"We're trying to create a patient experience like no other in the area," Saver said. "I've never seen a hospital that is going to look quite like this one in terms of patient comfort."
The pavilion will contain an expansive new lobby, registration area and cafeteria that will not be the traditional hospital environment.
The three-floor superstructure also allows construction of two more stories to accommodate anticipated future growth. The additional space will allow the expansion of existing services such as neurosurgery, cardiology and orthopedics, with the goal of developing a medical oncology unit in the future.
Development plans are also under discussion for an ante-partum and women's services unit on the second floor of the hospital, contiguous with maternity services and the hospital's Level III neonatal intensive-care unit, which treats newborns who are in need of high technology to survive.
The expansion will take general pressure off the hospital operation, which has been at near capacity. "We're running at 80 percent occupancy year-round, which in hospital terms is full, so it's time to grow," Saver said. "When you're consistently operating at that level, with the new tower, we can look at all kinds of programming. We can do more in each of those areas, and relieve the pressure on the existing hospital."
The increased bed capacity will help alleviate congestion in the hospital's busy emergency department, increasing efficiency and patient comfort, according to CEO Jerel Humphrey.
"The expansion will allow us to increase the overall patient experience," Humphrey said. "We've had a lot of success, and unfortunately, we don't always have beds ready for patients that we are taking care of, and it sometimes takes us a little bit to get them processed through. The new tower is going to allow us to decompress our emergency department and allow direct [admissions] in a more streamlined fashion. I think it will be a much more patient-satisfying experience."
Nursing stations in the new building have been designed to allow for maximum efficiency and optimal patient care. Building designers worked collaboratively with front-line staff and physicians over several months to understand work flow needs and obtain a patient perspective, resulting in a design influenced by the caregiver and focused on the patient, reducing travel distance to medication stations and multiple nursing stations on each floor. Supporting technology, including a computer station in each room for bedside charting, will enable nurses and physicians to spend more time at the bedside.
Each floor will offer an eight-bed ICU step-down unit, providing support for existing medical-surgical and ICU services. "That provides support for all ICU services," Saver said.
The expanded hospital will also be good for the community, with increased jobs and support services.
"In beefing up those programs we hope it will allow us to bring on more people and create more jobs," Saver said. "A lot of this will come organically as these programs develop, which is good for Wellington, good for the medical arts district, good for the hospital, and it's good for people."
Economic studies by the hospital show that by 2017, the anticipated economic impact of the project to the community will provide 100 full-time positions and $5 million in annual salaries. Additional economic effects of the expanded hospital will be through increased purchasing of goods and services that the hospital routinely requires, as well as a positive impact on local housing.
The pavilion is named after Alan B. Miller, the CEO and founder of WRMC's parent company Universal Health Services. Miller is expected to attend the grand opening on Oct. 3.
Saver, who came to the hospital from WPTV-NewsChannel 5 a month ago, said it is an exciting time to become part of the staff. "The people here are really wonderful," she said. "It's such a great team, which is why I chose this hospital."
Above: Wellington Regional Medical Center CEO Jerel Humphrey in front of the new tower.