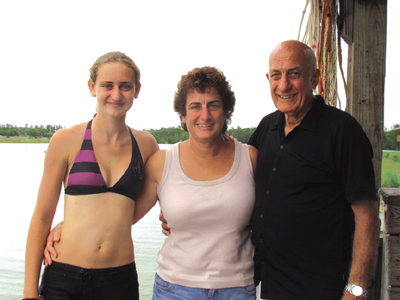 Gliding from side to side, water-skier Ashley Stevens goes 32 miles an hour on Lake Okeeheelee as she practices for this week's GOODE National Water Ski Championships at Okeeheelee Park.
A Wellington resident, Stevens was destined to be a water-skier. She comes from a long line of professional water-skiers, from her mother Judy Stevens to her grandfather George Stojanovich, both of whom still ski.
Water-skiing is not just a sport for Stevens; it's a family activity. The entire family competes in water-ski competitions, and they are known for being a water-skiing family. "She was one-and-a-half when I put her on my skis with me," Ashley's mother said. "She got on her own skis when she was about 2 or 3 years old."
For Stevens, nothing is more exciting than skiing. "I like the feeling of it, especially when I jump or go over a wake," she said. "I like being in the air, and I like completing a new course."
Stevens has been competing in water-ski competitions since she was 7, and since then won several competitions. Now at 14 years old, she is competing in this week's GOODE National Water Ski Championships along with the nation's top water-skiers.
Stevens is one of a few athletes from Wellington competing in the competition, and received the chance to participate after winning second place in the southern regional competition, for which she practiced diligently. "I practice at least five days a week," she said. "It all depends on how busy I am."
This month, Stevens will be starting her first year at Palm Beach Central High School and has to continue balancing schoolwork and water-ski practice. "Schoolwork always comes first. Then I can ski for the rest of the day, which I always do," she said.
Stevens did not expect to perform as well as she did in the southern regional competition. "It was so windy, and nobody was doing their best," she said. "I just went out there and did what I love to do, and did not really care about how well I did; I just did it."
The competition consists of a slalom course, in which the boat is timed to go right down the center of a course with six balls on the outside of the course. In order to get a perfect score, the competitor has to successfully weave through the course. "She first has to go through the entrance gate, around six balls, out through the exit gate, and then that's a full pass," Stojanovich said.
Each course gets more difficult as the competition goes on. "They either increase the speed of the boat or the rope gets shorter and shorter," Stevens said.
Stevens grew up around water-skiing professionals and learned the art of the sport from a very young age. Her grandfather ran a water-ski school in Michigan, and her mother has been competing in national water-ski competitions for many years. "My husband does barefooting on a world level, so it really is in the family," Judy said.
Throughout the year, Stevens competes in various water-ski competitions. "We do between six and 10 a year," Judy said. "It's a short season, which starts after school is out and ends right before it begins."
Stevens spends most of her time competing and practicing, and her family is with her throughout the entire time. "It's a lot of weekends, and Wednesday night tournaments," Judy said.
Stevens is thankful to have her family out there with her. "I'm happy they are there helping me get to my goal," she said. "They are supporting me every step of the way, and are not forcing me to do anything. I'm just having fun."
The feeling Stevens gets while skiing out on the water is indescribable, she said. "You don't have any gravity to you, and I do have some control, but I definitely don't have all of it," she said. "There are a lot of factors like the wind that also affect my performance, and you have to know how to handle every one out there."
Above: Ashley Stevens with her mother Judy and grandfather George Stojanovich.