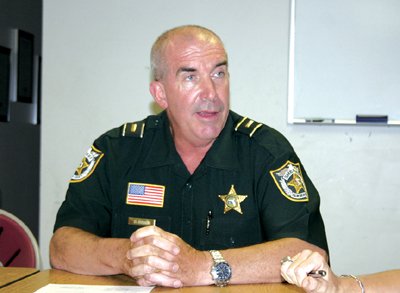 A rash of home burglaries and truck thefts have marred Loxahatchee Groves' usually low crime rate, according to Lt. David Combs, commander of the Palm Beach County Sheriff's Office District 15 substation.
"We've had a number of burglaries and stolen vehicles," Combs (shown above) said, explaining that PBSO deputies made some arrests on organized burglaries coming out of Riviera Beach. "We were able to make five [arrests], and we have three that are on the lam. We have 12 motor vehicles that we are working at one site."
Speaking at the Loxahatchee Groves Landowners' Association meeting Aug. 23, Combs said other charges and arrests are anticipated as the PBSO investigates the case further.
"That was excellent work, and it was in coordination with our district and Royal Palm Beach, so kudos to those guys," Combs said. "They did a terrific job."
Another problem that the sheriff's office is trying to make progress on is a professional vehicle theft group working the area.
"They specialize in taking the Ford F-series pickup trucks, the 250s and 350s especially," Combs said. "We're working closely with auto theft to see if we can make some headway. These are pros. These guys are really, really good. They are so good, that there is an F-250 in Loxahatchee Groves that I'm having people check on about every two hours because it actually belongs to one of ours."
The professional auto theft rings leave few, if any, clues. "It's almost a needle in a haystack to get the pros," Combs said. "The amateurs are a little bit easier because they do silly things. The kid that drove the truck back to the house, that's not professional. These trucks disappear and they're never seen again."
The thefts are so prevalent that one person Combs knows takes the ignition plugs out of his truck when he goes out of town. "Any place that is a rural area and you have bigger vehicles like that, it's always going to be an issue," Combs said. "Let's face it — they don't have those things in suburban West Palm Beach."
Combs advised people to take special precautions and not make mistakes such as leaving their keys in their vehicle. "I recommend that people keep everything locked," he said.
Combs said the thefts have been perpetrated primarily at night. He said he did not know whether the trucks were being driven away or possibly towed. "We have no idea because nobody hears anything," he said.