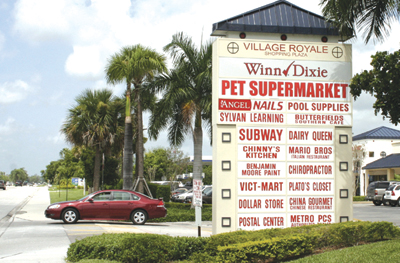 The Royal Palm Beach Village Council last week gave Pet Supermarket permission to use a yellow background in a sign for its new store in the Village Royale Shopping Plaza — a color scheme turned down in June by the Royal Palm Beach Planning & Zoning Commission.
Approving Pet Supermarket's appeal could foreshadow the relaxation of design codes in place at other shopping centers in the village, according to council members.
The zoning panel had recommended denial of the yellow background for the monument sign because it did not comply with Village Royale's master sign code calling for red letters on a white background.
In June, Pet Supermarket representatives had requested to use its trademark colors on the monument sign along Okeechobee Blvd. near Royal Palm Beach Blvd.
"This appeal seeks reversal of a decision by the Planning & Zoning Commission regarding the monument sign," Planning & Zoning Administrator Bradford O'Brien said at the Aug. 16 council meeting.
O'Brien added that there was discussion at the June zoning meeting about a need to allow tenants to use national trademarks or logos for name recognition purposes. The need to be consistent was also discussed.
"The Planning & Zoning Commission decided the request was not in keeping with the current tenant panels on the monument sign, with white background and red letters," O'Brien said.
The commissioners recommended approval of the wall sign as submitted, but recommended that the monument sign remain consistent. "The Planning & Zoning Commission did not like the yellow background," he said.
O'Brien pointed out that national trademark colors have been approved for monument signs at other shopping centers in the village, and that the village code provides that strong consideration be given to identification characteristics of signage, such as trademarks or logos. Because of that, he said village staff recommended reversal of the zoning panel's decision.
Robert Eisen with Government Process Services, representing Pet Supermarket, said the chain was founded in 1973 and owns and operates about 125 stores across the United States.
"It has a consistent sign program using a red and yellow color theme and distinctive letter types registered with the United States Patent & Trademark Office," Eisen said, adding that the store's 10,000-square-foot space is not visible from the road. "The only identification that they have of their store and their brand name comes from this monument sign on Okeechobee."
Eisen acknowledged the shopping center's master sign program, but did not believe it should apply to his client. "The majority of the tenants, not being national types of businesses, comply with the shopping center provision," he noted.
Eisen said he thought the commission erred in its decision about the monument sign.
"You are supposed to give strong consideration to the use of logos and trademarks in your sign approval," he said. "Also the issue in your code, it's not consistency. Your code does not say all the signs have to be consistent. The code says all your signs have to be compatible. Really, all they were concerned about was the consistency. They wanted each and every sign on that monument to be exactly the same, and we say that in the case of a national tenant, a strong consideration should be given to allow the national tenant to have his identification."
Eisen also pointed out that one of the commissioners said the sign would be more attractive if there was more variety, and in light of other national tenants in the shopping center, they might want to go with their national trademarks if the council granted Pet Supermarket its request.
"That's for a future time and a future date," Eisen said. "Right now our only concern is the Pet Supermarket sign, and we respectfully request that we be allowed to have the yellow background, which is an important component of the national brand identification."
Mayor Matty Mattioli said he did not approve of giving one tenant a special exception, adding that he thought if a store had good products, consumers would seek it out.
However, Councilman Richard Valuntas said he did not see a problem with the variance.
Councilwoman Martha Webster asked Village Attorney Brad Biggs about Eisen's contention that the commission had focused more on consistency rather than compatibility, and Biggs said the council would need to determine that.
Webster said she was confident that the other national tenants would step up to ask for use of their trademarks if the council approved Pet Supermarket's request.
"We have made this change for others around the village," Webster said. "In fact, when we look at some of those examples, I don't find them unattractive at all. What I do see is branding."
Webster said the existing monument sign is not very informative. "I live right around the corner and didn't know Dairy Queen was in there," she said. "I do think the time has come for us to move up to what's more relevant in marketing. I would go with this and approve it."
Vice Mayor Fred Pinto asked whether the council would be creating a competitive disadvantage for other centers.
"The problem facing us is that if we grant this, all the other national brands have the right to say, 'What about me?'" he said, suggesting that perhaps "the entire sign should be redone so we can address the issue across the board for all the national brands and not be so piecemeal."
O'Brien said the applicant has put forth this particular application now because there is urgency at this time, and that a proposed general change would be before the board in the near future.
Eisen, whose firm also represents the shopping center, said another application will be presented at the next meeting for overall sign change approval. "Tonight would be the first step toward an application for an overall sign change," he said. "Over time you will see a change that will result in a better look overall."
Village Manager Ray Liggins said that if a new master sign program is approved that includes registered trademarks, applicants can go through the process without zoning and council review. "If it is not approved, they still have to go through this process," he said.
Valuntas made a motion to reverse the zoning commission order and allow the national trademark colors. The motion was seconded by Webster and carried 4-1, with Mattioli opposed.
Above: The current monument sign requires Pet Supermarket to use red lettering on a white background. The company was granted approval last week to use its logo colors of red and yellow.