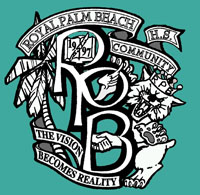 Royal Palm Beach High School began a new year this week with promising enrollment numbers, suggesting that more and more students are opting to attend their home school, rather than leave the community for magnet and choice programs elsewhere.
"Our enrollment numbers seem to have been going up," Principal Jesus Armas said. "Our projection was higher this year than it had been, and our initial numbers show that we should reach that enrollment number. We have the largest freshman class in a long, long time here. We're up over 630 freshmen. We're excited about the fact that we're keeping our students. They are choosing to come to Royal Palm and be a part of all the things that we have going on."
The school has two new advanced programs this year. Advancement Through Individual Determination (AVID) is an international program that helps students who are mostly the first among their families to attend college to succeed in a higher-education institution.
"The program does a good job of teaching some of the hidden curriculum in education, such as organizational skills, time management and study skills," Armas said. "We did some recruiting last year, and we're starting out with one section of it, and that's a good thing for us."
The school has also been accepted for part of the Cambridge University examination process, which offers an Advanced International Certificate of Education (AICE). "We are now officially a Cambridge University school," Armas said. "AICE courses and the eventual test give students college credits that in the Florida Statutes are equal to IB and AP courses. They're accelerated courses with an exam at the end, so we continue to increase the number of high-level courses that we can offer our students."
In addition, the Science, Technology, Engineering and Math (STEM) academy, started last year, is growing.
"We started with the one section last year, which is typically how you start a new program," he said. "We still have one section, and we've added an elective section. It will be in its second year. It's growing, and it will continue to grow. When we begin programs like this, we certainly don't expect to start off with a lot of sections. We're very pleased right now at the direction that it's going. We've got good kids in there. We've got good teachers, and the program will pick up as we get farther and farther."
Armas said the Excelsior academy offering Advanced Placement courses is in its third year and is also growing. "We continue to get a lot of people," he said. "That one comes with very stringent entrance requirements, an entrance test, and you have to be level four or five in both reading and math coming out of the eighth grade, so it's a very tough, elite academy."
Now with two sections, he is pleased with the progress at Excelsior. "Not that many students coming out of middle school qualify to even be enrolled in it," he said. "If we have 635 kids in the freshman class, only about 100 of those would qualify to be in it, and right now we have 30-some-odd kids in it, which means we're getting about 30 percent of them who actually want to be a part of that academy, which to me is a high number."
The medical sciences program is possibly the school's strongest success story.
"For the first time in the school's history, the medical sciences program filled all of its seats and has a waiting list to get in as ninth-graders, so it continues to be popular," Armas said. "We have students coming in from outside who choose it as a choice academy. It's popular, and the students in there are doing very well. Many of them are in our highest Advanced Placement classes."
The school is to the point now that if students do not choose medical sciences as a No. 1 choice, they're not going to be able to get in. "Even then, you still might not be able to get in," Armas said. "In the old days, you could wait and see if there were still slots open. That's over with. There's a waiting list to get in."
In his third year as principal, Armas is excited by the momentum he sees. "Coming off last year, our numbers are good on our tests, and we had a great graduation," he said.
Numerous village officials attended last year's commencement, which to Armas indicated the beginning of a solidarity between the school and a village whose council had felt disenfranchised due to the school's attendance boundaries spreading outside the village, with little if any input from the village.
"One of our goals coming in was that we wanted to ensure that we feel that Royal Palm Beach High School, as the high school of the community, should be a beacon for the community," Armas said. "We should be hosting events like Relay for Life. Our graduation ceremony should be one that the entire village can celebrate."
Having the mayor and three council members attend graduation is crucial to that goal. "Of all the things that we have going on, we feel that is one of the truest indicators of how we're progressing, of momentum that we have currently, and how we feel that the school is going in a really good direction," Armas said.
Armas said he is very confident in his staff's ability to sustain the momentum. "We're excited about our faculty and staff," he said. "Our faculty continues to be an expert group. They're very good, and they do a good job of furthering our vision."