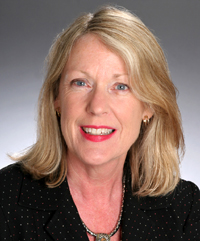 School Health Administrator Anne Hedges has retired after nearly 15 years at the helm of the Health Care District of Palm Beach County's nationally recognized School Health program.
At its regular monthly meeting July 11, the Health Care District's Board of Commissioners and CEO Dr. Ronald J. Wiewora honored Hedges for her leadership and dedication. Hedges, who joined the district in 1998, developed the School Health program with the goal of placing a registered nurse in every public school in the county. As a result of her vision and guidance, the program has matured into a comprehensive clinical operation of more than 200 full-time registered nurses in 169 public schools who keep 170,000 students from pre-kindergarten to 12th grade healthy and ready to learn.
"Hedges' contributions have been critical to building and implementing the kind of program the Health Care District and its community partners envisioned when the School Health program began in 1997," said Wiewora, who also serves as the Health Care District's chief medical officer. "She was instrumental in developing this program, and under her expert guidance, it has become a model in Florida and across the nation."
The Health Care District's school nurses, in concert with families, school faculty and local providers, improve community health by helping students and their families navigate the healthcare delivery system. During her tenure, Hedges achieved a milestone as public school students across the county graduated high school having had the benefit of a school nurse on campus from the time they began kindergarten through 12th grade.
Hedges has been recognized in the community for her dedication and commitment to the health of Palm Beach County students. In 2011, Hedges was the recipient of Palm Healthcare Foundation's prestigious Leadership Award at its annual Nursing Distinction Awards, which recognizes area nurses for their contributions and work in serving patients and their community.
In March of this year, the Quantum Foundation, an early partner in the launch of the School Health program, presented its first Change Leader Award, along with a $5,000 grant, to the Health Care District's School Health Program and praised Hedges for her leadership.
The Health Care District provides $11.5 million to staff and operate the School Health program and provide medical oversight. The School District of Palm Beach County provides an additional $2,550,000 toward the program. The Palm Beach County Health Department ensures the execution of the annual School Health Plan filed with the State of Florida and also provides medical oversight of the program.