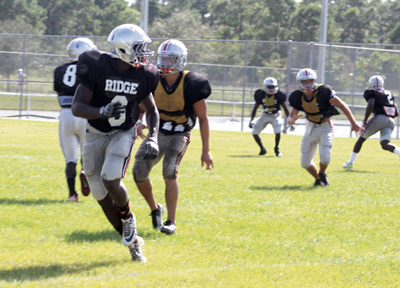 The Seminole Ridge High School varsity football team has its sights set on the state playoffs again this year.
The Hawks, who went 9-3 last season, saw their state championship hopes dashed in the second round of the playoffs when they narrowly lost to Palm Beach Gardens High School.
"It was a nail-biter," head coach Matt Dickmann told the Town-Crier. "We lost on the goal line."
This year, Dickmann hopes to see his team surpass that and move further toward a state championship title.
"We'd like to repeat as district champions, which is going to take some fighting effort," he said. "We'd like to make it further than the second round. You always want to improve."
Dickmann said the key to a good season will be keeping a healthy and hungry team.
"We've got to stay healthy," he said. "That's number one. And we've got to earn it. No one is going to give it to you."
This year, the Hawks are without star running back Gary Holmes, who ran 1,481 yards and 24 touchdowns for the team last season alone. Replacing him, Dickmann said, will be a team effort.
"It's hard to fill Gary Holmes' role," he said. "I think we have some pretty good guys who will step in as a team. Our three new backs are Elie Turene, Silas Spearman and E.J. Elien. I think they're all going to do a great job in the back field. You can count on all three of them to be solid, balanced players."
The Hawks also graduated wide receiver Darian Williams and fullback Alex Santacroce.
"We had a good group of seniors that we lost," Dickmann said. "Those were guys who were really tight at the bag — guys you could count on."
Additionally, the Hawks will be short a starting safety for their first several games, he said.
"We lost Mike Almonte as our starting safety last year," he said. "He broke his fingers and has to have surgery, so he's probably going to be out for several games."
Dickmann called the news "disappointing," and said he expects him to have to sit out for the first five or six games of the season.
"He's worked so hard," he said of Almonte. "You're not going to find anybody that works harder than he does. It's disappointing when you see that happen."
But the Hawks have an experienced, reliable group of starters returning to the team, Dickmann said. Many of them are three-year starters, including Kyle Shortridge, Omar Pierre-Louis, Rayfield Dixon and Jason Shepherd.
"All of these guys have been around for a while," Dickmann said. "We also have new players stepping up. That's the key to staying healthy. If we can stay healthy, we're better off."
Dickmann said that the team will be strong both offensively and defensively.
"We have a veteran offensive line," he said. "A lot of them had playing time last year. The defensive line is also intact, so a lot of good things can happen if we stay healthy. Everyone has to do their part."
The Hawks will kick off the season Friday, Aug. 31 at Palm Beach Central High School for a 7 p.m. game.