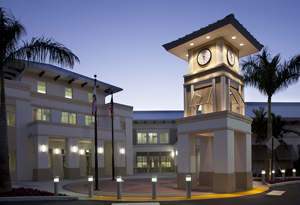 With Tropical Storm Isaac possibly headed to South Florida as a hurricane early next week, Wellington officials told the Town-Crier this week that the village is well-prepared to weather any storm.
"Our preparation begins before hurricane season starts," Deputy Village Manager John Bonde said Wednesday. "Every employee goes through FEMA-recommended training. In June, we make sure everyone's training is up to date… and check our supplies."
He said that Wellington has proven it can respond well in the wake of storms.
"We've proven ourselves with [hurricanes] Frances and Jeanne," Bonde said. "The good news is that many on our staff were here during those storms. We have an experienced core group of people who can help others. That's not to say we can't be thrown a curve ball."
Wellington takes its procedures from a comprehensive emergency management plan that is implemented countywide, he said.
"It includes everything from tropical storms all the way up to the most severe hurricane," Bonde explained.
As a municipality, Wellington acts as a first responder after the storm, responsible for clearing roads and making sure emergency responders can get to those in need. Necessary village staff — those who manage emergency operations, operate machinery and do other important tasks — will go on lockdown at select village locations during a storm.
"Once winds get up to 40 miles per hour, staff either goes into lockdown, if they are needed, or go home," Bonde said. "We can't do anything when the winds are too dangerous to go out. We prepare before the storm, then afterward execute response and then recovery."
With Isaac, and a tropical depression right behind it, Bonde said that Wellington is finishing up its details in preparing.
"This week we're checking our supplies," he said. "We're making sure our fueling station is topped off and all our trucks and cars are filled up. We have a more detailed list for each department. For example, the parks department goes out 40 hours before a storm hits and makes sure to secure all of our properties. They secure items such as awnings, shade structures and bleachers that can fly away. We make sure all doors are locked and that everything is chained down."
Once a storm nears, Wellington staff will take shelter in one of the several locations built to weather the storm. Chief among them is the new Wellington Municipal Complex, where current council offices act as the primary emergency operations center for the village.
"The second location is at our public works department," Bonde said. "They are linked by fiber optic cable."
Staff will also be on lockdown at Village Park and the Water Utilities Plant, where critical staff will wait out a storm and help clear roads and other important areas when the storm is over. "This year we're focusing a lot more attention on recovery," Bonde said. "We want to get the functions of the village back up and running as quickly as possible."
Bonde noted that during the busy hurricane seasons in 2004 and 2005, Wellington made a point to open the Wellington Aquatics Complex.
"You might wonder why that's important," he said. "The kids were out of school; schools were closed; there was no electricity and no air conditioning. The pool ended up being really popular. People were calling us three days after a storm wanting to play baseball. They are desperate to get their lives back in order."
But Bonde stressed that Wellington must first address crucial services and major problem areas before it can address residents' needs.
"Our first priority is clearing debris," he said. "Then we have to do things that involve clearing infrastructure. In the first 72 hours following a major storm, we have to work on infrastructure and then building up services. Depending on the severity of the storm, we could be back in 12 to 24 hours, but we ask people to be realistic."
Bonde encouraged all residents to be well-prepared for the storm on their own.
"Make sure your home is secure," he said. "Make sure you have a family plan. Make arrangement for your pets and pet foods, and for necessary medications. Have enough supplies — they tell you have enough supplies for three days, but I say more like five to seven. Make sure your friends and relatives know your plans. Sometimes people panic when they can't get hold of their loved ones."
Those who are well-prepared are less likely to become victims themselves, he said.
"Be prepared. Don't become a victim," he said. "Make sure your homes are secure and do what you need to do to exercise your own emergency plan. If residents would assist us in that, they won't have to rely on government as much after the storm."